Resources
Found in the Forest (Documentary)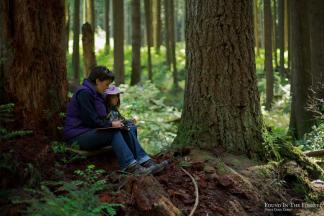 Resource Category:
CD/DVDs
How can you teach math without a chalkboard or textbooks? Can a child really learn in the rain? How can a BMX track be educational?
Found In The Forest
is a documentary that explores all of these questions and more at the Environmental School, a new public school in Maple Ridge, British Columbia, Canada which opened its doors in the fall of 2011. Still in its infancy, the Environmental School is a place where teachers, administrators, researchers, parents, and students are working together to develop a rich and unique learning environment while challenging conventional educational models.
The film investigates learning styles, ecological involvement, class structure, and the impact of outdoor learning on children.
As the parent of a child attending the school, Filmmaker and Photographer Craig Cerhit is able to explore every aspect of the school with unfettered access. By following the students over a two year period and interviewing all of the key participants, Found In The Forest is an important contribution to the critical discussion of what an education is, how it is delivered, and what that means for our children and society.