Are you looking to position your products or services as resources to a growing field of nature-based early learning professionals?
The conference is the perfect platform to connect with 400+ national and international leaders in the field, and to reach thousands more early childhood professionals through the Natural Start communication channels, including social media, website, and newsletter. Conference attendees are teachers, administrators, and other professionals working in nature-based early learning settings as well as traditional schools and childcare centers.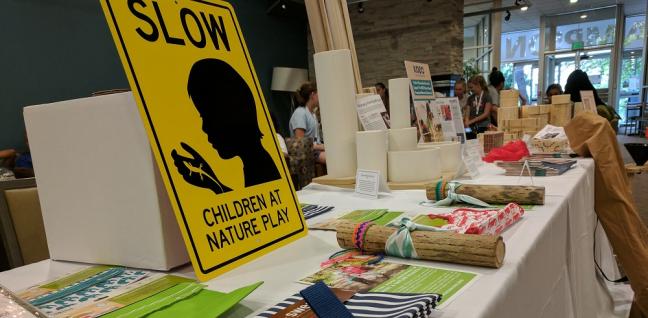 The standard benefits for our exhibitors and sponsors are listed below. But we understand that sponsors have unique goals for their conference experience.
Exhibitor | $900 

UPDATE: As of February 28, we can no longer accommodate additional exhibitors.
As an Exhibitor, you will be able to interact with conference participants and display your products in a centrally-located, high-traffic location, for the entire duration of the event (afternoon of July 31 through afternoon of August 2).
6' display table in central location, with internet access and electricity (if requested)
One complimentary registration, with full access to conference sessions and meals
Recognition in conference program
Gold Sponsor | $1,500
As a Gold Sponsor, you will not only be able to connect and share your expertise with conference attendees but also be recognized verbally, in print, and online as a supporter and as a resource to professionals in this growing field.
ALL of the benefits offered to Exhibitors
Half-page ad in conference program
Recognition and link to your website on conference website and all conference emails
Recognition in all printed conference materials, including program and banners
Verbal recognition of your support during opening and closing plenaries
Presenting Sponsor | $3,000
As a Presenting Sponsor, you will receive the highest-profile brand exposure and impact. This is an opportunity to engage with attendees before, during, and after the conference, and to reinforce your message through multiple, direct communication channels.
ALL of the benefits offered to Gold Sponsors, but you will receive a FULL-page ad in the conference program, TWO complimentary registrations, and top billing on all sponsor listings
Complimentary email broadcasts to conference registrants: one pre- and one post-conference
Social media announcement to all Natural Start followers (approx. 5,000 as of December 2018) when sponsorship is confirmed
Recognition as the exclusive sponsor of a conference plenary, lunch, or reception (your choice) with the opportunity to briefly (5 minutes) address attendees
Opportunity to include an insert in conference bag given to each attendee at registration OR to provide materials on all tables/chairs at chosen sponsored event
Thank you for supporting nature-based early childhood education!