Bright Ideas
Forest Days Evaluation Report Documents Benefits and Key Ingredients for Success
September 5, 2017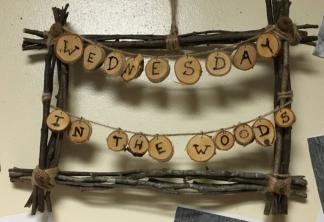 Forest Days programs are gaining ground in Vermont's and New Hampshire's early primary grades. An increasing number of public kindergartens and elementary schools are committing themselves to integrating nature and the outdoors into the school week. A recent evaluation report prepared for Antioch University New England and the Wellborn Ecology Fund employed a case study approach to understand how Forest Days programs look like in different schools, what their benefits are, and what challenges and obstacles they encounter in implementation.
Read the entire report here (PDF).
Researchers from PEER Associates found that, across all of the study sites, participation in Forest Days led to:
Increased mastery of academic content;
Enhanced student enthusiasm for school;
Fewer discipline or behavior issues;
Better teamwork and problem solving skills;
Improved social connectivity for students and teachers;
Increased levels of physical activity.
While documenting specific challenges to starting and maintaining Forest Days programs, the researchers also catalogued critical success factors, including:
Having a teacher who provides the "spark" and an administrator or school board member who sustains the "flame" for the program;
Access to an affinity group of educators to help share lessons learned and swap ideas;
Establishing boundaries but then trusting students to test their own limits;
Modeling playful activities and curiosity for children;
Involving parents and the community in all stages of the program, from site preparation to ongoing program delivery.
The researchers concluded that "Forest Days are a promising intervention that not only supports academic learning but offers numerous social, emotional, physical, and community-level benefits to diverse participants. The benefits seem to far outweigh any challenges brought forth, indicating that this pedagogical approach is worthy of consideration by a broader audience."
Read the entire report here (PDF).
Tags: