The Call for Presentations for the 2020 Nature-Based Early Learning Conference is now closed. 
Thank you to all who submitted a proposal! Notifications will be sent in early March.
Thank you for your interest in submitting a proposal for the 2020 Nature-Based Early Learning Conference, taking place July 29-August 1 in Cincinnati, OH!
Before submitting your proposal, read about this year's theme, topics of interest, and session formats below. 
About the Conference
The Natural Start Alliance's annual Nature-Based Early Learning Conference brings together hundreds of new and seasoned nature-based early childhood education professionals from the U.S. and abroad. Sessions explore how to plan, implement, and advocate for nature-based early learning programs; report on new and relevant research; share best practices in teacher education; explore education policy; and examine other topics that advance the field of nature-based early learning. Through in-depth workshops, hands-on sessions, compelling conversations, and research presentations, we aim to promote safe, effective, and inclusive nature-based practices. Natural Start invites proposals that align with our goal of advancing innovation and quality in nature-based early childhood education.
We also invite proposals that highlight how the nature-based education profession tells its story to advocate for change in education, reflecting this year's conference theme: Storytelling for Change.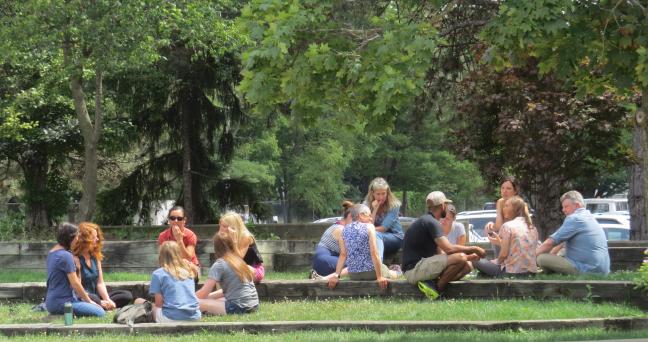 The Natural Start Alliance requests proposals for sessions that:
Provide opportunities for hands-on learning and/or deep discussion
Are solution-oriented and include concrete takeaways
Explore new research, advances in practice, innovative ideas, or relevant case studies
Promote equity and inclusion
Target emerging, intermediate, or experienced professionals
Link to the practices described in the Nature-Based Preschool Professional Practice Guidebook
This year we particularly welcome proposals that address one or more of the following themes in nature-based education:
Advocacy
Safety practices
Trauma-informed practices
Anti-bias approaches
Session Formats

Sessions will be offered in the following formats:
40-Minute Spark Sessions: These sessions can be indoors or outdoors and are designed to convey a concise idea. (For example, reporting on the results of a research study, a specific activity, or sharing a new resource).
60-Minute Presentations: These are traditional sessions that can be indoors or outdoors, or a combination of both.
90-Minute Workshops: These are the longest format offered, can be indoors or outdoors or a combination of both, and include deep exploration of a topic.
Poster Presentations: Posters report on the results of research, display a case study or resource, or are otherwise conveyed in a graphic format. While posters can be viewed throughout the conference, they are highlighted during a poster session that includes Q&A with poster presenters.
We welcome both individual and joint proposals (such as panel discussions) for all formats described above.
Audio Visual Equipment
Indoor session presenters will have access to a projector, screen, and internet-connected computer with PowerPoint capabilities. Any additional equipment or materials can be rented through the event's audio-visual vendor at the presenter's expense. 
Outdoor sessions will take place, weather-dependent, in spaces adjacent to the conference hotel. Chairs are not generally provided, but a limited number of chairs can be provided upon request. Please indicate in your proposal if your outdoor session or workshop can be adapted to an indoor setting if needed. All outdoor sessions will include back-up indoor locations in the event of inclement weather.
Each presenter will have access to an easel and foam-core board to which they can attach their posters.
Presenter Discount
Lead presenters of accepted proposals will receive a 25% discount on their conference registration. One discount will be offered per session.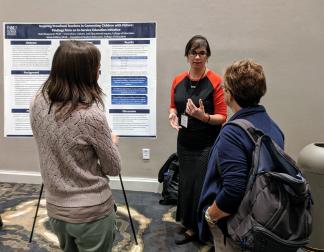 Review Process and Notifications
Proposals will be evaluated by a review committee based on alignment with conference objectives, relevancy, clarity of learning objectives, overall quality of submission (all required questions answered completely and clearly, etc.), and consistency with accepted standards for effective adult learning. Notifications will be sent in March 2020. Accepted presenters must register by the presenter registration deadline in order to remain in the conference program.
We look forward to seeing you in Cincinnati!
Sheila Williams Ridge, University of Minnesota
Conference Program Committee Chair