Bright Ideas
Deadline Extended for NAAEE Conference Proposals
March 24, 2015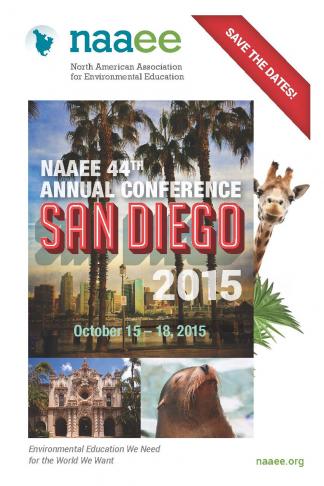 We heard the calls for just a little more time, and we've exteneded the deadline for proposals until Friday, March 27th!
The North American Association for Environmental Education's (NAAEE) 44th Annual Conference will be October 15-18 in San Diego, and we're seeking compelling proposals that inform environmental educators about proven practices, push the leading edge of the profession, and motivate the pursuit of excellence.
Our conference theme this year is Building a Stronger and More Inclusive Movement. Diversity, equity, and inclusion are primary drivers of NAAEE's new Strategic Framework, and they are critical success factors for everyone working in the field of environmental education. This year's conference will explore ways to enrich and expand our work and workforce, along with other strategies for strengthening our field and achieving greater collective impact.
Last year's conference included 
20 sessions
 focused on nearly every aspect of early childhood environmental education, plus opportunities for networking, training, and more. This year's conference strands include:
Conservation and Education
Environmental Education in Urban Settings
Inspiring Connections to the Outdoors
Research-Based Practice in EE
Teaching about Environmental Issues and Systems Thinking, and Greening PreK–12
Higher Education, and Vocational Training
Early childhood themes could fit in any of these strands.
Tags: