Bright Ideas
Natural Start Forum: Removing Barriers to Outdoor Gear
May 17, 2021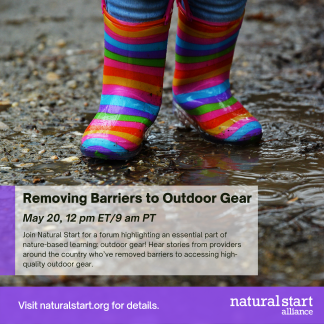 The right gear is essential for outdoor learning, but many families and schools view gear as a barrier. We've asked four leaders from four different programs to share how they acquire and manage gear in ways that are equitable and accessible. Now is a great time to be thinking about gearing up for next school year!
We hope that their work to establish programs that center equity and accessibility might spark new ideas for nature-based programs of all kinds. 
During the forum, you'll hear from these four providers and have the opportunity to ask questions and even share your own ideas in the chat! 
Meet the Presenters
Alyson Quinn, Founder & Director, Minneapolis Nature Preschool
Alyson Quinn is a founder and the current director of the Minneapolis Nature Preschool.  She is an educator who strives to connect all young people with nature. As a former high school science teacher in Minneapolis, and youth programs coordinator for the Conservation Corps of MN and IA, Alyson is inspired to help young children maintain their connection with nature as they grow into adolescents and become environmental stewards of our future.  Alyson spends her time with family exploring the woods and community near their home in Minneapolis.
Anna Sharratt, Founder & Executive Director, Free Forest School
Anna Sharratt founded Free Forest School in 2015 and now serves as Executive Director. Anna grew up playing daily in the many green spaces of her hometown of Minneapolis and Northern Minnesota, and she delights in watching her children learn to love the same places. She has worked as an educator, both in wilderness-based experiential education and education for social justice, since 2002. Anna lives in Minneapolis with her husband and two children. When not creating and supporting the growth of new Free Forest School groups around the nation, Anna can be found writing, gardening, reading, or playing outdoors.
Cheryl Ryan, School Manager, Red Oak Community School
Cheryl Ryan is the School Manager and one of the founders of Red Oak Community School, a nature-based elementary school. She's been managing the school from its inception in 2015, guiding its policies and structure as it has grown. She has a background in business management, with a collaborative approach that works well at a community-driven school like Red Oak. She has a strong belief that access to the outdoors and unstructured play at school should be a basic right of all students.
Susan Eschbach, Principal of Beverly J. Martin Elementary School
Susan Eschbach is the principal of Beverly J. Martin Elementary School in Ithaca, New York. In order to reopen to students in the fall of 2020, Ithaca City Schools partnered with the Ithaca Children's Garden to install outdoor learning spaces at all eight elementary schools in the district. In order for students to use these spaces year-round, all eight PTAs came together to form a committee and launch the Ithaca Elementary Outdoor Gear Project. The committee successfully raised enough funds to outfit all 1,200 elementary students who were attending school in person and as of January 2021, has raised over $60,000 to support the project.