Bright Ideas
Outdoor Preschools Win Opportunity for Licensing in Washington State
May 28, 2021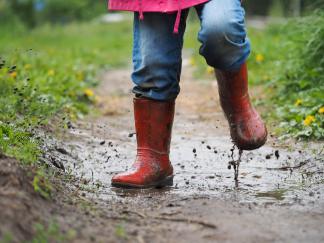 Washington's passage of SB5151 makes it the first state in the nation to permanently license outdoor preschools. The legislation gives the Washington State Department of Children, Youth, and Families (DCYF) authority to license outdoor, nature-based child care programs for preschoolers and school-age children.
Now, licensed outdoor programs will be eligible to participate in the state's public funding systems for early childhood education. DCYF Sectretary Ross Hunter explains, "Outdoor, nature-based experiences promote children's physical, cognitive, and social development in ways that are unique from a traditional indoor environment. Yet, many families lack access to outdoor and nature-based experiences, and these inequities often fall across socioeconomic and racial lines. By licensing outdoor child care, we're expanding access for children and families."
If you're interested to learn more about the legislation and the many years of dedicated work it took to get it passed (from advocacy to the pilot program to final passage), we've pulled together some of our coverage and resources.
Outdoor Preschool Pilot Webinar
Hear from Washington's Outdoor Preschool Pilot Program Specialist Aliza Yair about the legislation and its pilot phase.
Feature Story: Licensing Outdoor & Nature-Based Preschools, in Washington State and Beyond
Natural Start's Kit Harrington describes the advocacy behind the legislation, and shares lessons learned for advocates in other states hoping to bring more outdoor learning to preschools in their states. Read the story.
Member Spotlight: Squaxin Island Child Development Center
Take a look inside the Squaxin Island Tribe's Child Development Center, one of several programs that served as pilot sites under the legislation. Read the spotlight.
Natural Start Forum: Outdoor Preschool Policy Action Framework
Willamette Partnership's Oregon Health & Outdoors Initiative partnered with outdoor early childhood experts across the country to develop the Outdoor Preschool Policy Action Framework. In this forum, hear from a variety of providers and policy experts about policy options for promoting outdoor preschools. Watch the forum.
Washington DCYF Resources
The Outdor Preschool Pilot extended over four years before the program was made permanent in 2021. Learn more about the pilot and legislation.