Bright Ideas
Registration is Open: 2015 Nature-Based Preschool National Conference
April 29, 2015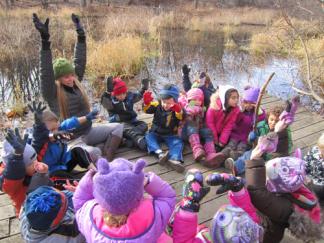 Registration is now open for the third Nature-Based Preschool National Conference. The conference provides a space for nature-preschool educators to connect, share best practices, and get inspired. The conference will be held August 19-22 at the Elachee Nature Preschool in Gainesville, Georgia, as part of the Association of Nature Center Administrators (ANCA) Annual Summit. 
The goal of the conference is to create a forum for educators to share ideas around nature-based education for young children. Conference highlights are listed below.
Thursday, August 20 
Welcome & Keynote Speaker – David Sobel 
Tours of Elachee's Nature Preschool
Session examples include:
Flexible Thinking in the Forest Classroom
Awareness of Risk 
Creating & Teaching in Natural Outdoor Classrooms
How to Write a Business Plan for a Nature-Based Preschool
How do Academics Fit in Nature Play?
A Place for Permaculture
Get your Nature Preschool 101 Questions Answered 
Friday, August 21 
Full-Group Round Table Discussions
Session examples include: 
Filling Your Indoor and Outdoor Environments
Power of Personifying Nature 
Teaching & Sharing Nature: Grow the Passion 
Branding the Taylor Swift Way
Sustaining Us Between Now and Next August: Updates on Natural Start; Current News and Trends; Regional Efforts
​Dinner and Live Auction
Saturday, August 22 
Field Trip – Tour of local nature-based preschool programs 
Evening Banquet and Dance
Full conference registration is available at a deeply discounted rate ($275) for early childhood educators and administrators. See the links below for full details. Spaces are limited for discounted registrations, so register early to ensure you receive the discounted rate!
See you this summer!
Tags: