Bright Ideas
Save the Date for Our 2019 Conference: July 31-August 3
October 1, 2018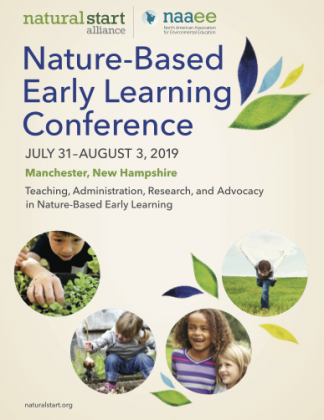 Are you an educator or administrator who runs a nature-based preschool or another early learning program that places nature at its core? Or a
re you thinking about starting or transitioning to a nature-based program?
A
re you a researcher, landscape designer, or other professional who focuses on nature-based early learning settings?
Are you passionate about making the benefits of nature-based education accessible to many more young children?
If you answered yes to any of these questions, our 2019 Nature-Based Early Learning Conference is designed specifically for you!
Join us on July 31-August 3, 2019, in Manchester, NH, for engaging presentations, experiential workshops, site tours, and professional networking with 
nature-based early childhood professionals from around the country and beyond
. 
The conference will help you: 
Plan, run, and advocate for Nature Preschools, Forest Kindergartens, Forest Days, and other nature-based early learning programs;
Learn about strategies, curricula, and documentation in nature-based early learning settings;
Improve fundraising, marketing, and other administration tasks associated with nature-based early childhood programs;
Learn about the latest research on early childhood environmental education.
Network with nature-based early learning professionals from your region and around the country.
A call for proposals, registration, lodging, sponsor/exhibitor information, and more will become available soon. You can sign up to receive all of our communications below.