When we created the Natural Start Alliance in 2013, a key role we envisioned for the Alliance was to track nature-based programs across the United States. We knew that interest in these programs was on the rise and that we would be tracking an upswing, but we never imagined that the growth would be this dramatic. 
Over the past few months, the media have increasingly 
been
 taking note of the growth in our sector, and we thought our community might be interested to see what we're tracking, the attention the field is getting, and what we're projecting for the future.
Growth of the Field
Since there are no formal mechanisms for tracking nature-based programs (for example, states don't specifically regulate or track them), we rely on our own research, our networks, and word of mouth to help identify programs. It's not a scientific process, but it's giving us a fairly good picture of the field. Here's what we can say based on what we've learned:
The first nature-based preschool in the United States opened in 1966—50 years ago—at the New Canaan Nature Center, making nature-based learning hardly a "new" approach to early childhood education in the US. That was followed by programs at other nature centers, including Mass Audubon (Massachusetts), Kalamazoo Nature Center (Michigan), and Dodge Nature Center (Minnesota). But the programs spread at a trickle for many years.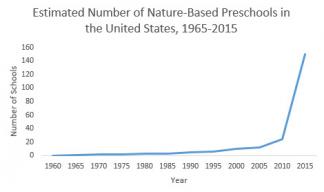 In her 2012 dissertation, Dr. Patti Bailie of the University of Maine-Farmington cited some two dozen nature-based preschools in existence. And this is where the trickle deepens into a river. In the four years between Dr. Bailie's research and today, the number of nature-based preschools has swelled to over 150, more than a six-fold increase. 
How do we define nature preschools?

Sometimes people ask how we decide if a school is a nature preschool or not. Identifying a program as nature-based is often clear, but not always. We start with a definition proposed by Natural Start advisors Dr. Patti Bailie and Ken Finch (Green Hearts Institute for Nature in Childhood) that argues that nature-based schools put nature at the heart of the curriculum and use nature to support both early childhood development and environmental education. (

Click here

for details.)  

 

With that in mind, if a program has identified itself as a "nature preschool," "forest kindergarten," or similar program (indicating that they put nature at the heart of their curriculum), we count it as one. If the term "nature preschool" or "forest kindergarten" (or similar) isn't in the name of the school, but they otherwise demonstrate that nature is at the heart of their curriculum and they spend a significant amount of their instructional time outdoors, we also count that school as a nature-based program.

 

The grey area is schools that have not explicitly made nature the focus of their curriculum, but have nevertheless invested in developing rich outdoor learning environments and make use of those daily. An example might be a school that has developed a Nature Explore-certified outdoor classroom and is using it regularly to help connect the children to nature and enhance their learning. In these cases, we do not count the program as a "nature preschool" in our database. Instead, we would regard this kind of program as a preschool that is doing an excellent job of incorporating nature, but is not a nature-based program.

 

See our

Nature Preschools page

 for a listing of nature-based preschools that have joined the Natural Start Alliance. 
National Interest Grows
As the number of nature-based programs has grown, so too has interest among parents, educators, and the media. 
In particular, the rapid growth in forest programs in the Pacific Northwest, and particularly in the Seattle area, seems to be fueling much of the growing interest. While programs like
Cedarsong Nature School
on Vashon Island have garnered national attention in the past for their all-outdoor program, the recent rapid rise in programs in the area--including
Fiddleheads Forest School
and, more recently,
Tiny Trees Preschool
's announcement that they plan to open forest programs across Seattle in city parks--have piqued the public's interest. 
In late December, the New York Times ran
a story on nature-based preschools
, particularly highlighting Fiddleheads Forest School and Tiny Trees. The story was one of the venerable paper's most-emailed stories. 
Just weeks later, NBC Nightly News picked up on the trend and ran their own story on the movement. 
If there was ever any doubt about whether nature-based preschool education had reached the mainstream, it was cleared up on that night.
The Council of Nature and Forest Preschools
In light of the dramatic growth in nature-based early childhood education, Natural Start has been working hard to respond to the needs of educators in this growing, specialized field. The
Nature-Based Preschool National Conference
(first offered at Chippewa Nature Center in 2012 and now organized annually by Natural Start with a team of nature preschools professionals from across the field) is one such effort.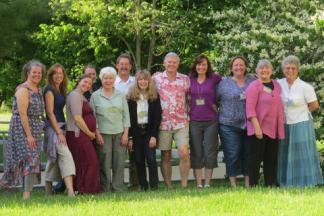 In addition, we convened a group of experienced leaders from nature preschools and forest schools to think about more ways that we can support the field. What resulted is the Council of Nature and Forest Preschools, a professional network to support and advance nature and forest preschools that we're just now launching.
Through the Council, nature and forest preschool professionals can join the larger effort to advance the field, whether that's by supporting networking, professional development, advocating for the field, or supporting research that benefits nature and forest programs. Everyone gets the chance to meet in person at the national conference, but the Council provides a way to maintain those connections and continue to advance the field during the year. 
Looking Ahead
Clearly, nature-based education has reached a new level in terms of growth and interest in the field. With the Council of Nature and Forest Preschools now in place, we think the most important next step is to start to create a common set of best practices for our field. We think it's essential that we begin to define what high quality looks like in nature-based programs. Parents, regulators, researchers, administrators, and educators need tools to evaluate the degree to which any nature-based preschool is offering a safe, effective program. 
We also need more research, advocacy, and opportunities to network and improve our professional practice through training. Through its committees, the Council will help lay out specific goals in all of these areas, and provide a network we can use to advance our collective work. If you work in the nature-based education field and would like to get involved with the Council of Nature and Forest Preschools, join one of its committees, or just learn more, email us at
[email protected]
.