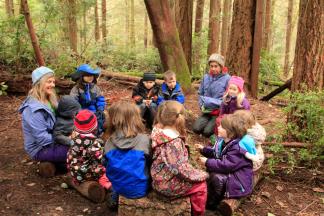 There are many ways of operating a nature-based preschool, but experts agree that to truly be a "nature preschool," a school must put nature at the heart of the program, it must be based on high-quality early childhood education and environmental education practices, and it must also help lay a foundation for environmental literacy.
Preschool educators have long known that animals, plants, water, and other aspects of the natural world delight children and draw them in as learners. As a result, most preschools will at certain points use nature or natural elements in their teaching to achieve great educational results. Nature preschools, however, are a special breed of preschool. Nature preschools have all the same child development goals that more traditional schools have, but they also are committed to accomplishing those goals through experiences in and with nature, and have an added goal of helping children begin to develop care and concern for the natural world.
Dr. Patti Bailie, a pioneer of research on the nature preschool movement who currently serves as an Assistant Professor of Early Childhood Education at the University of Maine at Farmington, and Ken Finch, Founding Director of Green Hearts Institute for Nature in Childhood, offer three main criteria to distinguish nature preschools:
Nature is the central organizing concept of the program. That is, nature is the integrating thread that intentionally ties together the preschool's philosophy, methodologies, class-room design, outdoor spaces, and public identity.
 
A nature preschool's program is based on high-quality practices of both early childhood education (developmentally appropriate practices) and environmental education (the North American Association for Environmental Education's "Guidelines for Excellence in Environmental Education" and 

principles of interpretation

), requiring its teaching staff to have skills and experience in both early childhood education and environmental education.
 
A nature preschool program uses the natural world to support dual goals that address both child development and conservation values. These include the development of the world of the child (in all domains – cognitive, physical, social, emotional, aesthetic, and spiritual) and the development of an ecological identity or environmental ethic.
Within these broad criteria, there can be a lot of variation between programs. Programs can vary, for example, in the amount of time they devote to exploring outdoors, the curriculum and assessment tools they use, the role of parents and families, the length of their programs, the ages they serve, and so on. 
Do you agree with these criteria? Are there others you would add? Let us know in the comments below.