Bright Ideas
First Step to Water Conservation: Wonder
July 19, 2015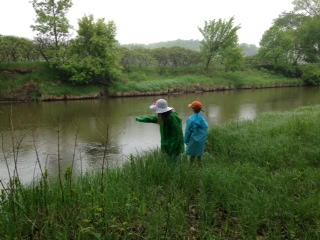 Summertime is a favorite season for all types of water play! In environments that serve young children, there are often shallow pools, "sink or float" tubs, and hoses and buckets aplenty for children to explore water safely.
And although early childhood is not the most appropriate time to dive into the topics of water pollution and water shortages, simple messages about conservation and water's unique role on Earth can be conveyed through adults' modeling and communication. You can also embrace children's natural love of water to foster their growing sense of stewardship. In subtle ways, you can make conservation a part of play.
Being mindful about how you use water and expressing your appreciation for it are some simple ways to share messages about water's importance. Noticing how water helps to make things clean and how it can carry things is a powerful way to engage children in conversations about the power of water. Ensuring that children have positive, joyful, and meaningful experiences with water lays the foundation for developing a sincere interest in conserving it.
Here are some tips I often offer to educators about how to make water play fun for everyone:
Get Creative: Ensure you are offering children many opportunities to explore water, and use it in new ways. For example, try painting with water, put ice cubes in your sensory table, play in the rain, and use mud-puddles for paint.
Let Imaginations Run Wild: Allow for plenty of open-ended play with water. Make sure you have a good collection of materials for exploring water, such as empty bottles, sponges, spoons and dippers, eyedroppers, funnels, tubes, and watering cans.  
Be Prepared: Don't let a lack of proper outerwear be a barrier to exploring water: encourage families to send a change of clothes to school with their child so that children won't be afraid to get wet. Invest in extra rain gear to have on hand for children who lack it. Provide waterproof aprons or smocks for children who are reluctant to play with water for fear of getting splashed. 
Water has unique and important properties that make it a perfect tool for exploring and enjoying nature and developing scientific thinking skills through experimentation and exploration. Experiences using water or ice as a medium can inspire artistic expression. Songs, poems, and stories about water can build literacy skills. There are many ways to use water to help ignite curiosity, joy, and delight: the first steps toward conservation. 
About Patty Born Selly
Patty Born Selly is the former Executive Director of the National Center for STEM Elementary Education at St Catherine University in St Paul, Minnesota. She is currently a faculty member at Hamline University, in the Natural Sciences and Environmental Education program. As the founder of Small Wonders, a nature-and-science education consulting company offering services to schools, faith-based communities, and other organizations, Patty has developed hundreds of programs to help teachers incorporate nature and science education. She is the author of two books,
Connecting Animals and Children
and
Early Childhood Activities for a Greener Earth
, both from Redleaf Press. Her passion lies in helping teachers restore children's connection to the natural world through outdoor experiences and meaningful connections with animals. Learn more about Patty's books
here
or contact patty at
[email protected]
.
Tags: