Member Spotlight
Audubon Nature Preschool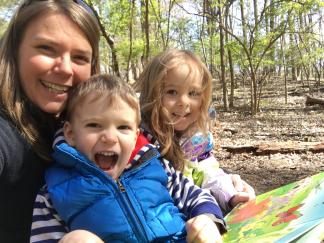 The 40-acre Woodend Nature Sanctuary, just minutes from Washington, DC, is the headquarters of the Audubon Naturalist Society as well as the home of the Audubon Nature Preschool. We asked the Preschool's Director, Stephanie Bozzo, to tell us more about this program, whose tagline is "Bringing the wonder of nature to children."
Please describe for us a typical day at Audubon Nature Preschool.
Each day has a balance of child-led and teacher led activities. Our day begins with outdoor explorations in our naturalized play yards until all of the children have arrived. These spaces are full of loose parts and have open-ended structures and areas allowing for imaginative play. A short circle time allows teachers and students to welcome and greet one another and discuss the plan for the day. Songs, fingerplays, and sharing round out the circle time before we head off to hike.
Hikes are either whole-group or split into areas of interest. We spend at least an hour exploring the areas of the sanctuary that the children are interested in. Teachers follow the interest, rhythm, and flow of the students to determine where to go and how much time to spend in an area.
Then, we head toward the classroom for another short circle time to introduce the learning centers of the day. The children then move freely through the learning centers spending as much time at each area as they desire. The centers include construction, dramatic play, lab/media (sand/water/etc.) table, discovery (science) table, art, easel, manipulatives, snack, book nook, and feelings den. We then have a group storytime before heading back to the naturalized play yard and dismissal.
Our Forest Kindergarten program also includes lunch and longer blocks of outdoor time. All programs spend a maximum of one hour indoors each day with many days spent entirely outdoors.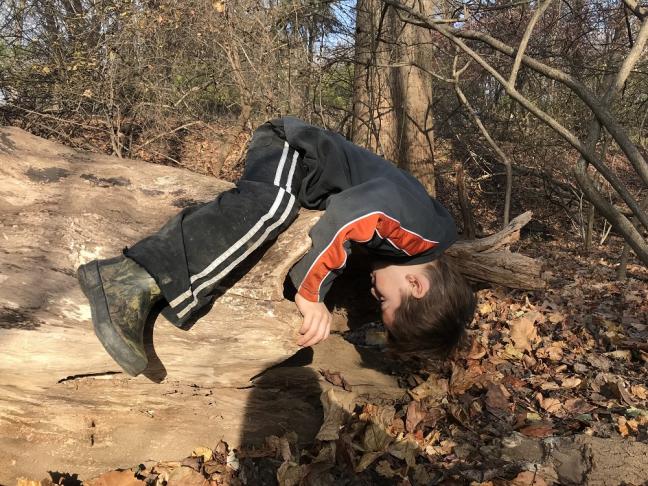 This year's Natural Start Alliance conference was centered on the topic of "wonder," which also plays a central role in your preschool's mission. How does Audubon Nature Preschool facilitate wonder in early childhood education?
Our teachers are experts at modeling wonder and awe every day. When children make a discovery, we celebrate how exciting and incredible nature is. We also constantly talk with the children about the interconnectedness of life and how amazing it is. The deepest and most meaningful learning happens when children spend their days making discoveries in nature and sharing their wonder with a trusted adult. Research has shown that the learning that takes place while someone is experiencing high levels of emotion lasts the longest. While children are learning at our preschool, they are joyful, laughing, and experiencing lots of positive emotions, making the learning stick with them that much more deeply.
What would you say to parents who are considering a nature-based preschool for their kids?
Nature is the great equalizer. There's something for everyone. Every child is a born naturalist, interested in the natural world and how it works.