Member Spotlight
Aventuras Forest School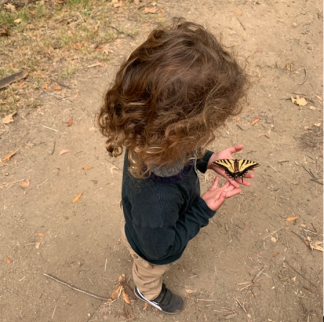 At Aventuras Forest School, kids spend 100% of their school day outdoors in public parks in Los Angeles. Aventuras serves children age 3 to 6, five days per week, four hours per day, and follows a play-based emergent curriculum. It's also a Spanish-language immersion program and the first preschool in Southern California to infuse language education into a nature school model. The program launched in 2018 and is celebrating its two-year anniversary soon!
How is your program faring during COVID-19? Are there changes that you've had to make?
We feel lucky to have an outdoor program, as the research is growing about its benefits! We get a lot of inquiries, but we reduced our size to 8 kids and 2 teachers. Teachers and children wear masks as much as possible. We do health screenings, wash our hands a lot, and sanitize supplies. Two changes that worked out for the best were having children bring individual blankets to sit on and shifting to a 5-day only schedule.
You have such a fascinating background. You spent your early childhood in Argentina, lived in Brooklyn where you taught in NYC public schools, spent seven years as an education researcher, trained in the Cedarsong Way and children's yoga, and founded your own outdoor, language immersion preschool. We want to know more! What did you take away from these experiences that led you to nature-based education? 
When we moved from New York to Los Angeles, my husband and I were looking for a Spanish immersion preschool with a strong outdoor component for our son. When we didn't find any, we decided to start our own dream school! Spanish immersion forest school seemed like the perfect model, especially since I had a background both in biology and language development. And as a researcher, I loved the idea of being a pioneer. Some other great schools in this field include My World Mandarin Nature School and The Scandinavian School.
Aventuras is "Southern California's First Language Immersion Forest School." Tell us more about that.
Although California has a complicated history with bilingual education, much of my generation has grown up seeing the value of multilingualism and want to pass that along to our children. Our teachers speak Spanish to the children 90% of the time. We use English for safety and conflict resolution. Most of the children can understand but not speak Spanish when they start. Outdoor play is great for stimulating language development. Children are motivated to name the objects that they discover. Research shows that emotions play a big role in children's language learning, so the naturally calming environment helps too.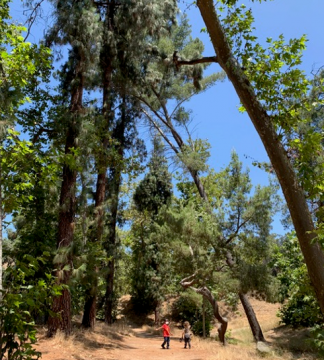 Launching your own program isn't easy. Do you have any advice for others who are looking do start a nature preschool?
I recommend attending a Natural Start Alliance conference! You also can take trainings from The Cedarsong Way, The Academy of Forest Kindergarten Teachers, or Antioch University. David Sobel has written many great books. Plan to grow gradually as you build your reputation. Most importantly, don't forget your own wellness—it will help you create the best environment for yourself AND your little ones.