Member Spotlight
Brooklyn Forest School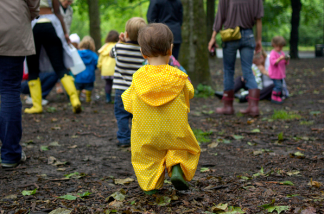 Brooklyn Forest offers classes in New York City parks for young children and their caregivers. We want a child's first class to be filled with wonder. And we believe a wonderful childhood starts with imaginative play and a supportive community; with a meaningful connection to nature and wildlife; with vigorous physical work and nourishing food; with simple rhythms and constant singing; with feeling at home in the forest. 
The idea of an early childhood class that takes place entirely outdoors is new to the United States. But in many parts of Europe and the United Kingdom, where in the last two decades educators have established hundreds of forest schools, the idea has become about as common as ballet class or soccer practice. Studies following children in these forest schools have found many overall benefits from their outdoor experience—not only to their physical health, but also to their creativity, concentration and desire to learn.
About the Founders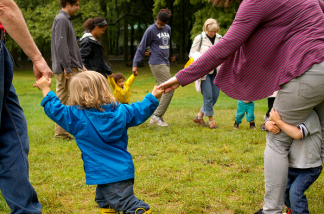 The story of Brooklyn Forest is also already several decades old. It begins in the 1980s—long before they were married, our founders Joylynn Holder and Charlie Foster met in preschool on Long Island. Over the next twelve years, they attended the same small school, which integrated rigorous classroom academics with the nature found in the fields, hills, wooded trails, and vegetable gardens of its expansive suburban campus.
When they became parents in Brooklyn, they wanted to share their love of the outdoors and play-based learning with their young child, and with other families seeking more encounters with nature and wonder in the city.
Brooklyn Forest began in 2011 as one small class in the woods of Prospect Park for a handful of families from nearby neighborhoods. Now, three years later, hundreds of children and caregivers from all over Brooklyn, Manhattan, and Queens come every week to play and learn with us in the park. Our classes are still small, but our community is growing. Come join us!