Member Spotlight
Brooklyn Park Nature Preschool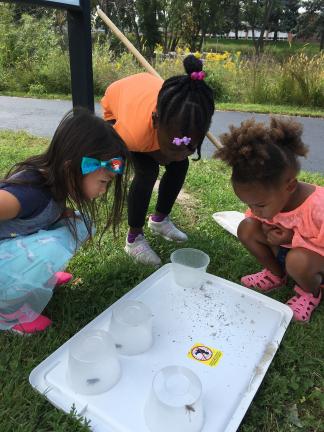 In operation since 1980, Brooklyn Park Nature Preschool began as a traditional preschool that transitioned into a nature-based program in 2016. As a part of the Brooklyn Park Recreation and Parks Department, the preschool collaborated with park maintenance staff to build a nature play space which now serves as their outdoor classroom. Students spend around 60% of their day outdoors year round. Nature is a central design feature of the indoor classroom and teachers work closely with naturalists to plan and facilitate nature-based activities. Though the path to becoming a nature-based program was not easy, they overcame many challenges and remain a key program in their community. 
Brooklyn Park is the sixth largest city in Minnesota and is a majority minority city where 50% of residents are people of color, 20% were born outside of the US, and 25% of residents speak a language other than English at home. The preschool currently serves 72 students and places equity and inclusion as an important program goal. Nearly 40% of students enrolled are children of color and 15% of families receive some form of financial aid. Many of their students live in urban environments, so offering an opportunity to connect with and explore nature became essential to the preschool's mission. We asked Sheri (Director, Brooklyn Park Nature Preschool) and Jen (Recreation Supervisor, Recreation and Parks Department) to tell us more about what makes their program unique and what they've learned along the way that may benefit other nature-based programs. 
What do you think Brooklyn Park Nature Preschool does best?
We let kids be kids. Our teaching staff observe the individual needs of each child and build lesson plans and interactions around those needs. We encourage our students to solve problems with their peers, and teachers only facilitate as needed. These authentic, real-life experiences with problem-solving develop children's social-emotional skills. Our school is located on the grounds of a large multi-use community center, so we have a lot of space to move, do, and think bigger, making the most of both our indoor and outdoor classroom spaces. 
Each preschool class has three teachers and we use this low staff to child ratio to our advantage! Each class is broken up into three small groups during formal teaching time so we get to know our students really well. We are able to meet each of our children where they are at, move at their pace, and be intentional about tracking each individual learner.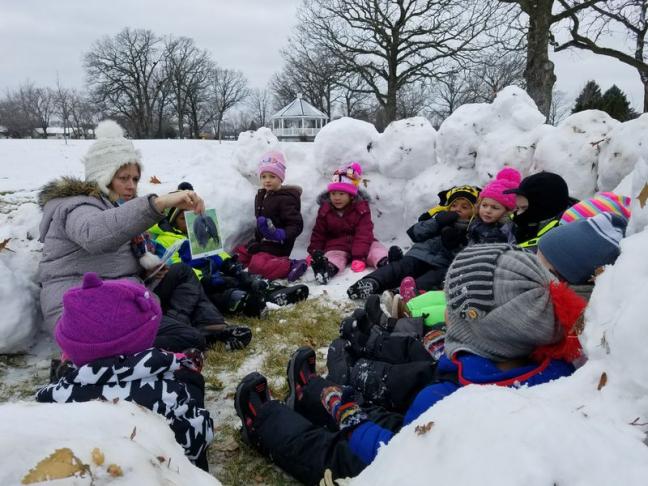 What are some of the biggest challenges you've faced since the program began? How have you addressed those challenges?
One of our biggest challenges in the last few years has been updating our facility to meet our new needs as a nature-based program. While we have great outdoor spaces that include a pond, prairie, a nature play area, and large lawn, our indoor space can be a challenge. Our indoor classroom doesn't have a window, but we were able to remodel and add a photo-realistic mural of a meadow on one wall and a lofted play area on the opposite wall. Those changes made a big difference in the look and feel of our indoor space. We also updated a small conference room adjacent to our classroom for use as a mudroom. Children change out of their dirty, wet, outdoor clothes and shoes in the mudroom, which helps keep our classroom tidy. 
Our preschool is housed in a large community center that also hosts weddings and special events, so we need to make sure most of the lawn spaces stay in pristine condition. We've been creative and have found spots away from special event areas for a mud pit exploration and climbing dense pine trees. We make use of spots on the sidewalks where water collects so we can puddle stomp. Community members seem to enjoy looking through the ballroom windows to see our students in their rain suits playing outside!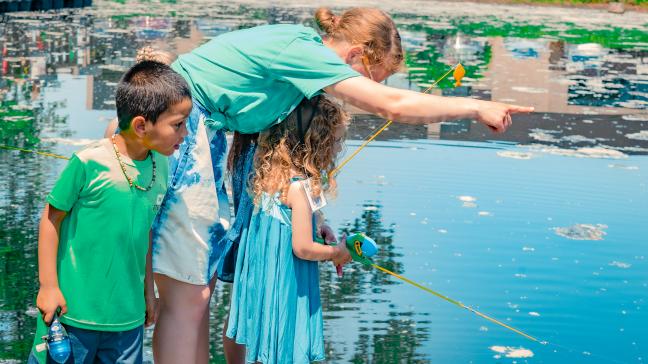 What steps have you taken to create an equitable and inclusive learning community? Any advice for programs that are hoping to improve in this area?
We offer a sliding scale for tuition fees to ease the financial burden on our families. We make information about financial aide clear and easy to find, and work with our office staff to make the process of applying for aide simple and dignified. We recently went through both the national accreditation process and state quality standards, which gives us access to state funds for tuition reimbursement for families demonstrating financial hardship. The city provides additional support. Our preschool director helps families with the application process for state funds and our staff handles any issues with payments outside of the classroom. 
After our first year, we started doing 1:1 meetings with each of our new families before the start of the year. During those meetings, we get to know families, make connections, and learn about any additional needs. The Recreation and Parks Department has a full-time Inclusion Specialist on staff that works with our preschool families at the beginning of the year on accommodating food allergies, dietary restrictions, and any disabilities or behavior concerns. Our teachers involve all students in making sure everyone is included, regardless of their needs or abilities. When we started 1:1 meetings, we had to look at the administrative requirements for operation and shifted responsibilities so classroom staff had time to work with families. It's quite an investment, but it is 100% worth it in the long run.
It's important to be realistic about the time it takes to do this work. Inclusion doesn't happen overnight. Plan additional time for staff training and process improvement, so it doesn't feel rushed. It is ongoing and needs to be considered in every part of operation, from marketing and communication to tuition, the registration process, and day-to-day interactions with families.