Member Spotlight
Cibolo Nature School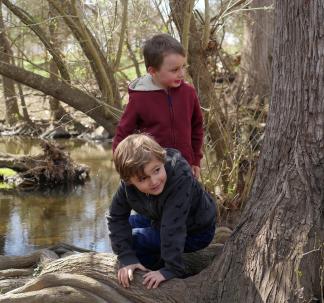 Cibolo Nature School is a program for 3-5 year olds following a nature and place-based curriculum in Boerne, Texas. The curriculum is customized with attributes from Montessori, Reggio Emilia and Waldorf that are integrated with a learning through play methodology. Children learn in a unique environment encompassing a 100-acre nature preserve and a 60-acre historic farm.
Natural Start spoke with Linda Charlton, a Lead Educator at Cibolo, who expanded on the school's mission to, "build strong backs, inquisitive minds, and wild hearts in young children through hands-on experiences with nature and research-based teaching methods that provide the best possible education for each individual child."
What makes the Cibolo Nature School special?
Cibolo Nature School takes place on the Cibolo Nature Center campus, comprising one-hundred acres of land with four distinct habitats -- tallgrass prairie, marsh, woodlands and riparian zone with a cypress-lined creek. Every day we spend at least half of our time outdoors learning and playing in nature, regardless of weather.
One of the things that sets Cibolo Nature School apart is our access to these four distinct habitats that provide children with learning opportunities, a sense of place, and immense beauty. Every day the Cibolo Nature School children vote as a class on the habitat they would like to visit, and the class hikes to the area. Each habitat inspires a different type of play. For example, at the creek, we throw stones in the water and balance on cypress tree roots, while in the prairie, we play hide and seek in the tall grasses. These diverse play and learning environments allow children to grow their confidence, knowledge, and build on a variety of important skills.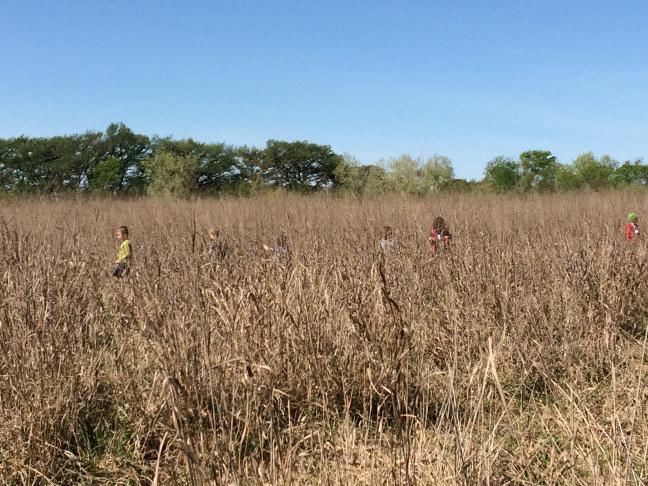 How do you work to eliminate barriers that exist in nature-based early learning?
Cibolo Nature School seeks to encourage a diverse community of learners. We offer scholarships for families in need, we make modifications for children with special needs, and we have teachers who speak both Spanish and English.
Tell us about your multi-age classroom. 
Currently, Cibolo Nature School has one multi-aged classroom for children ages 3-5. Our classroom has a carefully curated selection of activities that appeal to a wide range of ages, skills, and abilities. While the younger children choose their own activities, older children are gently nudged towards activities that strengthen their skills. Staff encourage older children to take a leadership role and nurture younger children. After spending a year or more together in the classroom, children and teachers develop a strong bond that creates a solid foundation for growth.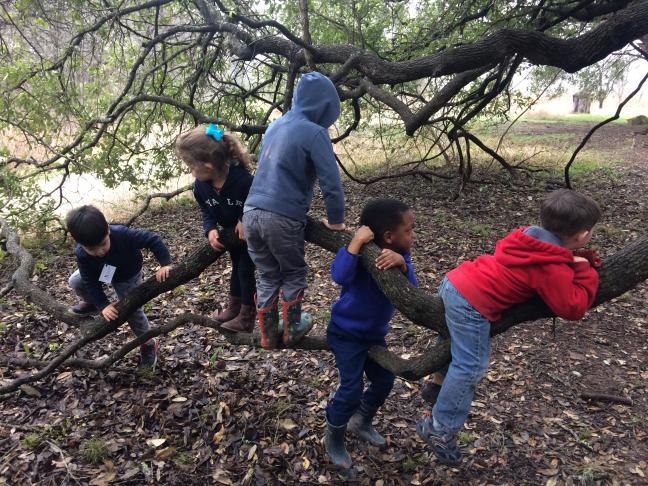 How do you manage risk at your school?
The Cibolo Nature School risk management strategy has three components that support children in taking beneficial risks. 
First, the staff meets at the beginning of the school year with a specific focus on identifying every risky situation that we encountered over the previous school year. We complete a risk management assessment, identifying the benefits of these risky situations, ways to mitigate risk, and any hazards that teachers need to eliminate.  
Second, we communicate openly with parents about risk and risky play. Throughout the year, we inform parents of any risky situations we encounter, talk about ways that our staff manages risk, and proactively share the benefits of risk for healthy child development.
Third, we teach children to evaluate their level of risk readiness and encourage them to assume their own risk. For example, with riskier play like tree climbing, we have a rule that children must be able to get up and down the tree by themselves. Before climbing, children assess whether they feel comfortable attempting that task. To keep these safety guidelines fresh in their minds, teachers ask children to say the rules aloud upon arrival at each new habitat.