Member Spotlight
Cincinnati Nature Center Preschool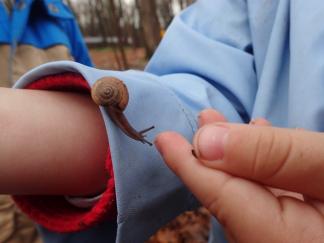 The Cincinnati Nature Center Preschool is a nine month nature-based preschool program that is licensed through the state of Ohio. The Nature Center currently offers four part-time sessions, with 15 students in each session. Children spend 2 out of 3 hours outdoors every day and have not missed a day of going outside since opening in 2012. In the fall of 2020, Cincinnati Nature Center will expand their programming to include a K-2 Nature School with a focus on outdoor learning using a Montessori based curriculum. 
Your preschool curriculum is based on Ohio Early Learning Content Standards, yet is still student-driven. Tell us how you achieve that.
Our staff has the knowledge and autonomy to integrate the early learning content standards into an outdoor program. With a knowledge of the standards, our educators take advantage of teachable moments and allow children to learn through inquiry, even if they had a different lesson planned for the day. An example of this: As we were hiking to our bluebird boxes for a lesson on birds, we came across a trail that was covered in snails and the children naturally started picking them up. One of the teachers grabbed a large piece of paper from the classroom and started to group count the snails by tens. Together, we counted 256 snails that day and every child was engaged and taking part in the activity. 
Your preschool was awarded the Step Up to Quality Five-Star Rating. Congratulations! Can you tell us how you accomplished that?
When we began our nature based preschool program in the fall of 2012, I wanted to start off as a five-star program. Other local early childhood professionals helped me to understand that this would take time, which was difficult for me to accept at first. Now I understand that it takes time to meet the guidelines for the five-star rating. We started off as a two-star program, and in that time, we really got to know our passions and philosophies. In order to be awarded five-stars, programs are required to involve parents through family activities, engage with the community, like through working with local universities, and keep detailed records, even more involved than what's needed for state licensing (among many other requirements). We are proud to say that we've been rated five-stars for the last five years, and just renewed our qualification for another five years!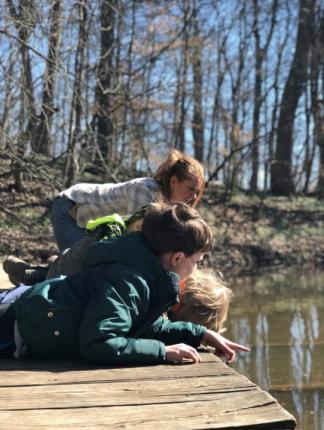 Tell us more about your K-2 Nature School that is scheduled to open this fall. Who and what initiated this new school? Will you coordinate with the local public school?
Since we opened the nature preschool in 2012, families have been asking for a Kindergarten. We have many homeschool groups that visit the nature center and some of our preschool students leave our program and continue the homeschool path. Motivated by the feedback from parents and a rise in homeschooling, we decided to take a leap and combine homeschool, Montessori, and outdoor education in our upcoming K-2 Nature School. The Nature School will be in a different location from the preschool, with room for up to 15 students in a mixed age classroom. 
The K-2 program is an alternative to the traditional classroom and will emphasize STEAM education through a nature-based and Montessori approach. Children who attend this program will register through their local school district, opting for homeschool and declaring that we will provide the teacher and the curriculum for their homeschool decision.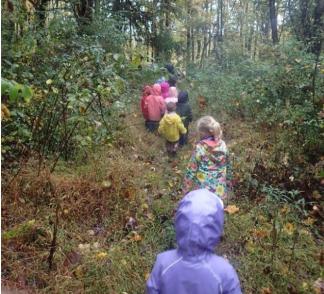 Do you have any advice to share with other nature-based programs that want to extend beyond preschool?
I recommend listening to your current clientele to see if that is something they want. Our preschool parents have asked for an extended program since 2012. By offering Kindergarten – 2nd grade we are able to combine Montessori philosophies with nature in a way that has not been done locally before. We chose this model because it serves a wider audience without a lot of overhead. It also allows for more freedom to customize each student's experience than a traditional magnet school. 
"There is no description, no image in any book that is capable of replacing the sight of real trees, and all the life to be found around them, in a real forest. Something emanates from those trees which speaks to the soul, something no book, no museum is capable of giving."

--Maria Montessori, From Childhood to Adolescence

 
---
The Cincinnati Nature Center Preschool will be a featured site during the 2020 Nature-Based Early Learning Conference this summer in Cincinnati, OH! Conference attendees will have the opportunity to tour the Nature Center Preschool, along with several other model nature-based early learning programs on Saturday, August 1.
Registration for the conference and site visits will open in mid-March.