Member Spotlight
Diona Reese Williams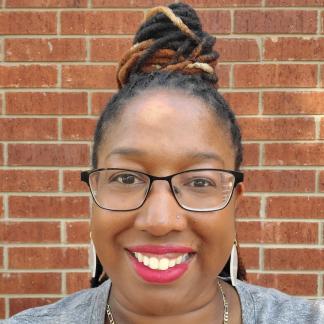 Diona Williams is a fulltime Early Childhood Education Professor at a Tribal Community College on the Tohono O'odham Nation. She loves teaching college students about Early Childhood Education, but also absolutely loves working with young children and families. In September of 2019, she became a Business Owner, Founder, and Educator of Out Back Learning, LLC, an outdoor, home-based nature preschool. Diona was inspired to open Out Back Learning after attending Prescott College's Summer Institute. She has worked with children birth to age 8 for the last 18+ years in many different capacities. Her career has allowed her to work as an Infant/Toddler Mental Health Clinician II (behavioral health), Arizona Early Intervention Program, and CHILD Find Team/Public Educator as an Early Childhood Special Education Teacher.
For our July Member Spotlight, we asked Diona to tell us more about herself and her program, Out Back Learning.
Tell us how you got started with your home-based, completely outdoor preschool in the desert. What gave you inspiration and besides starting small, what advice would you give others who want to start home-based programs?
When I decided to get my degree in early childhood education, I always knew I could be an in-home provider. However, taking care of young children has been a part of my own life story. My Nana was an in-home provider in New York City for over 30 years, so the seed was planted when I was young, I was one of her original "Chick-a-Dees." But, as a military child, I spent many years in child care and morning and after school programs. I was 15 years into my career in early childhood education before I even heard of the concept of nature-based preschools or forest schools. I had attended Summer Institute through Prescott College in 2018 and 2019, and during one of our field trips I was able to see a home-based nature-based preschool program. Immediately after this field trip, I knew Out Back Learning, LLC was going to happen. Next, I attended the Samara Early Learning, LLC professional development at Natural Start Alliance Conference in 2019. This professional development was the perfect outline and validation I needed to start Out Back Learning. I started Out Back Learning as a part-time nature preschool program to provide access to outdoor learning experiences for children ages 3-6 years old in my community. This past year I had 4 students participate in the program. 
Home-based programs can improve access to nature-based learning for children in the surrounding neighborhoods or communities. If a program is focusing on place-based learning and connection to one's community, a program located within the community the child belongs to is one of the most meaningful and tangible places for that to happen. Although Out Back Learning could expand one day, I would never let go of the neighborhood location because I know so many children in my community do not have access to outdoor learning, especially gardening. The outdoor classroom for Out Back Learning already has 5 mature trees, which provides plenty of shade for the desert heat. When Out Backers are in the backyard, they can enjoy peaches and mulberries when they are in season. The garden areas provide another space for the Out Backers to explore food by just trying a tomato from the bush itself. In terms of creating the space, the garden areas were already established, but I invested in additional plants to create a sensory space. I had my family, friends, and parent volunteers assist with the Out Back Learning transformation. We were able to plant and prep the outdoor garden spaces, since gardening is a key part of Out Back Learning and is embedded in the emergent curriculum. I wanted the Out Backers and their families to learn the importance of growing their own food and to know how a tomato grows or why Monarch butterflies are important to our environment.
My advice to someone who wants to start a home-based program is think about your Why. And, most importantly, survey your audience or market and create a solid business and marketing plan to support that Why.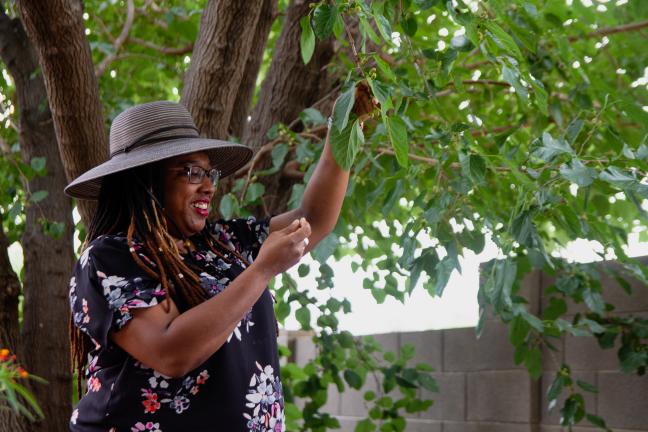 You recently wrote an article about the importance of state licensing. What are your goals regarding licensing in the state of Arizona? Can you provide an update on where the Early Childhood Environmental Education working group is in the process or share what else that group has been working on?
My main goal in regard to state licensing in Arizona is to help create licensing policies which include outdoor regulations. In other words, I think all programs should have the option and access to use outdoor learning policies for both fully or partially outdoor programs. Instead of two different licensing policy books, create one comprehensive policy book, which provides flexibility for all types of programs. Currently, the Arizona Association for Environmental Education's (AAEE) Early Childhood Environmental Education (ECEE) Working Group is on pause due to the pandemic and the many social injustices coming to light in Environmental Education. The group is a virtual gathering (we're a big state) of Early Childhood Environmental Educators in Arizona, including nature-based preschools, homeschoolers, non-formal programs that support learners ages 0-8, formal educators working in birth-3rd, and anyone else interested in joining us on this advocacy journey. We want to elevate the voices of early childhood educators in the field of environmental education and elevate the voices of environmental educators in the field of early childhood education. It's a big task, but we are excited to see what we can do.
If you are in Arizona and interested in joining us, you can always email us at [email protected]! Right now, we are excited about sharing NAAEE's new EE Guidance for Reopening Schools and finding ways in which the messaging and ideas in this resource can apply to our varied early childhood education settings as well. 
We understand that you are an active member of AAEE, the Arizona affiliate of NAAEE (North American Association for Environmental Education). Tell us why you became involved with this organization and how it has helped you in your career and with your preschool.
Last summer, after attending the Natural Start Alliance Conference, I remember at some point during the conference we split into our regional groups and this was one of the first times I heard of the Arizona Association for Environmental Education. By late Fall, I had reached out to an ECEE Colleague from the AAEE Board of Directors, Ellen Bashor, and asked her how I could join. As a home-based nature-based preschool program in Southern Arizona, I felt like I was working in isolation. At the time, I did not know of anyone in the area, or in Arizona, doing this type of work, so I just wanted to be a part of the community I felt like I was representing. From there, I met LoriAnne Barnett, the AAEE Interim Director, and was asked to be on AAEE's Board of Directors.
Being a part of AAEE has changed me personally and professionally, as well as how I view Environmental Education. AAEE has accepted me as an Early Childhood Education professional, helped me learn how to elevate my voice in my own field of study, and has demonstrated over and over again the value of children having access to the outdoors within their communities. AAEE has helped bring attention to nature-based preschools in Arizona, and it has provided Out Back Learning and other programs more credibility for parents or educators who may not be familiar with the concept of outdoor classrooms. Also, AAEE is all about inclusivity and equity for all environmental educators, so I am able to share early childhood environmental education articles, which provides a place for educators seeking out information in regard to early learning outdoors.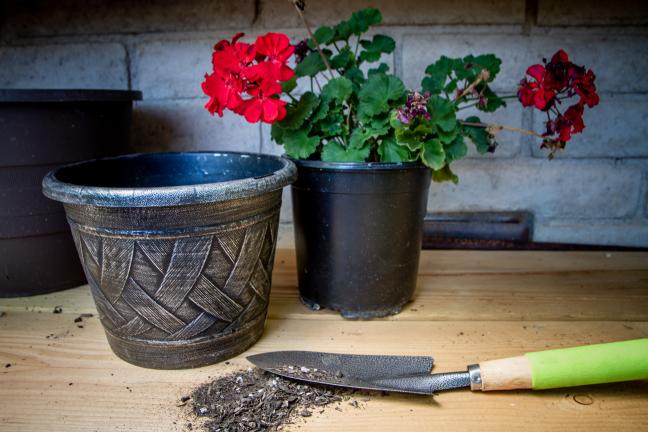 You recently started a podcast, "Black in Nature." Can you tell us what led to you sharing your experiences and what your goals are for your podcast? Can you share how these experiences impact the way you teach young children?
The Christian Cooper incident in Central Park, New York City created the desire to speak-up and speak-out about my own experiences as an educated Black woman advocating and working in the field of Early Childhood Environmental Education. I could no longer sit in silence about the things I had experienced as well. However, it was really #BlackBirdersWeek, which was endorsed by NAAEE, where I decided to participate through social media. Although it was important to me to participate in the movement that way, I still did not think I was advocating enough. I wanted to help change the narrative of Black, Indigenous, Persons of Color (BIPOC) in nature, so I was inspired to create the "DRW: Black in Nature" podcast series. I wanted to provide a voice for myself and help other BIPOC by sharing my own stories in nature. This has also led to launching my personal brand website called Diona Reese Williams (DRW) to help other BIPOC feel represented and see an image of themselves in the industry they want to enter. In the education field we often say it is important to see yourself in other educators. For me, the person that helped me see myself in the field was Sheila Williams-Ridge. I know there are many BIPOC already doing the work of Environmental Education, so my hope is the podcast series will help other BIPOC feel empowered to be seen and heard in the field of Environmental Education. I want to make Environmental Education accessible for people who want to be a part of this community. 
My experiences in nature that I share in the podcast have impacted every aspect of my home-based program, Out Back Learning. My experiences are also why I chose to have a home-based, community, nature, and garden infused program. The location of the program is in a neighborhood just like my Nana's in-home program in New York City. I have a garden because my grandmother explained the importance of learning to grow my own food. I grew-up taking walks and going to the park with my parents and brother. Our nature walks in Out Back Learning include walking to our favorite locations in the neighborhood. The podcast stories taught me that "nature" looks different for everyone, and I want children to have nature experiences that are relevant and meaningful to them in their own neighborhood. Out Back Learning is a part of who I am and how I identify myself in the field of Early Childhood Environmental Education, which will always represent and reflect the threads of my life in nature. 
Additional Resources:
AzAEYC Advocacy
AzAEYC How COVID-19 has impacted Out Back Learning