Member Spotlight
Dondero Elementary School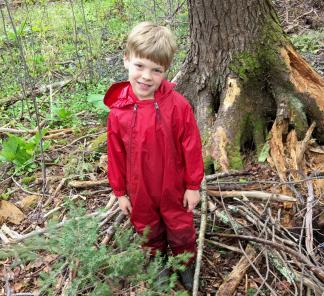 Faith Masterson and Amanda Goodwin are teachers at Dondero Elementary School in Portsmouth, New Hampshire. Four years ago, they decided to take their students out to explore the wooded area behind their school. This decision eventually led to the development of an outdoor classroom, and has since expanded to include more than half of the classes at Dondero who now participate in nature-based learning at least once per week. The outdoor education program at Dondero Elementary is part of a growing movement happening in public schools across the country. Read more about the program and what advice Faith and Amanda have for others looking to do something similar, below. 
What inspired you to bring nature into your classes and teaching?  
Our personal story started when we were both young children living in a rural setting, though our journey of bringing young explorers out to the woods as educators started 4 years ago. We spent most of our childhoods playing in outdoor spaces by ourselves and with peers. Once we began teaching, we noticed there weren't as many shared experiences among our students related to outdoor play. We heard more about their experiences with video games and tv screens which potentially explained some of the narrowing play we observed in our classroom. We noticed a deficit in our community to reconnect kids to the outdoors and wanted to do something about it. Our elementary school had an unused wooded area that lent itself well to young explorers. This "classroom" was filled with trees, mud, ferns and bugs galore! It seemed like the perfect setting for what we wanted to accomplish.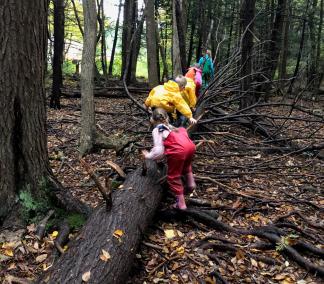 How did you get your administration and parents on board with the idea? 
Luckily, our administrator saw the need as well and encouraged us to figure out how to get our students outside. We communicated with parents about the philosophy and purpose of nature-based education. Many parents were reminded of their own childhoods and were thankful we were giving this gift to their child during the school day. After our third year, other grade levels, mainly primary classrooms (K-3), wanted to begin their own journey into the  forest. Currently, about 11 out of 18 classrooms at our school participate in outdoor learning at least once per week.
What were the obstacles and how did you overcome them?
Having the proper gear was an obstacle at first, but with support, and funding from our principal, kids were always prepared to go outside. We knew that going into this journey we would have to be flexible and adapt to any obstacles we might face. In the beginning, we felt the need to keep our forest time connected to current curriculum and standards. As we researched and spent more time with our students in the forest, we realized how much curriculum emerged that fit into standards and the expectations of our district. We went in with an open mind as to how our forest time might evolve. Though we didn't have it all figured out at first, we learned ways to make the time most successful with students.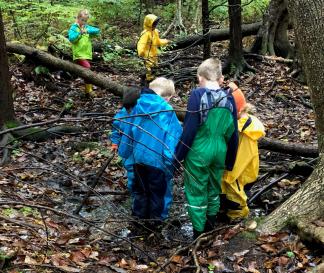 What advice do you have for other elementary schools that want to get their students outside and learn in nature?
A critical piece to our success as lead explorers in the forest was having a partner. We keep each other accountable, think of ideas, overcome obstacles, and strengthen our vision and philosophy, as a team. We used our partnership to grow our knowledge and passion for the outdoors. We committed to each other to spend one morning each week out in the forest and try to overcome any obstacles that get in the way of this magical time with our students.
Our journey started with small visits to the forest and has evolved to be one of the most memorable and motivating parts of the week. Our advice is to get out there, in any way possible. Start small and let the kids lead the journey. 
---
You can visit Dondero Elementary on the Eastern New Hampshire and Maine Field Trip, following the 2019 Natural Start Conference. As a part of this field trip, you'll have the opportunity to explore their outdoor classroom and learn even more about how they got started, and what they've learned through this experience. There are still spots available! Sign up today: https://naturalstart.org/conference