Member Spotlight
Dr. Yash Bhagwanji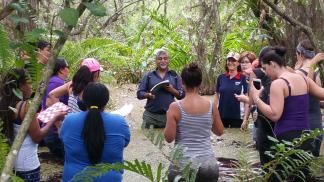 The fifth volume of the
International Journal of Early Childhood Environmental Education
has just come out
, and we wanted to ask the journal's Executive Editor, Dr. Yash Bhagwanji, of Florida Atlantic University, about the influences behind his work and some of his exciting plans for the future.
What inspired your interest in early childhood environmental education?
I had spent two decades in early childhood education as an advocate, educator, and researcher, when, around 2010, I was suddenly hit with the realization of the immense value of biological diversity on our planet. Because of my understanding of the importance of the early formative years, I committed myself at that point to support children's own journeys in becoming informed citizens, making appropriate choices about, and practicing, sustainable living. 
Ms. Christy Merrick was another significant influence in my formative experiences related to early childhood environmental education. In her capacity as the first Director of NAAEE's Natural Start Alliance, she invited me to be involved in the work of the alliance and also introduced me to Ms. Kathleen Belk Doffermyre, a Program Officer at The George B. Storer Foundation. Ms. Doffermyre and the Storer Foundation have been invaluable supporters of many pre-service and in-service professional development initiatives I have developed and coordinated.
You have been teaching a class, Foundations of Early Childhood Environmental Education, that you hope to make available online in 2018 through Florida Atlantic University. What is the goal of the class and who is it for?
This course along with two others (Exploring Natural Habitats as a Curriculum for Young Children and Effective Practices in Early Childhood Environmental Education) were my early vision for a comprehensive curriculum for pre-service undergraduate students in our Early Childhood Education program. 
With the support of the Storer Foundation, I have successfully offered these courses for three years now. The Foundations course provides students with a solid background on the purposes and recommended programming requirements in both early childhood and environmental education. Students have to produce their own original (and ideal) designs for early childhood environmental education, complete with indoor and outdoor illustrations. 
After three years of teaching the course, it dawned on me that this course could be offered online as well, and thereby reach pre-service education teachers across the nation. I am now working with our Center for eLearning at Florida Atlantic University and Judy Somers, our Instructional Designer, to develop the online version of the course—so be on the lookout for an announcement on the Natural Start website for a summer 2018 course!