Member Spotlight
Durham Community Preschool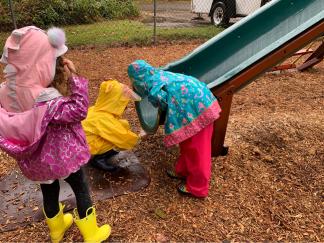 Durham Community Preschool was launched in 2009 by a group of dedicated parents with an interest in creating an inclusive, welcoming, play-based, secular learning environment. As the name suggests, community plays an enormous role in how the preschool operates. The goal was to establish a program where families of every race, ethnicity, religion, family structure, and background would feel at home. Typically, the preschool serves over 40 families in a half-day program. During the pandemic, staff and families worked together to incorporate the Conscious Discipline concepts they'd been practicing for years into a fully outdoor model. Now a typical day includes health screenings with parents, lots of hand washing, and exploration of the preschool's outdoor environments, which include a playground, wooded area, parking lot, and a little back porch.
Natural Start spoke with Executive Director Rose Volponi to learn more about the preschool's journey over the past year. If you're anything like us, this story is guaranteed to make you smile!
You recently decided to structure your day completely outside! What motivated you to make that change and what have you learned from it? 
When the pandemic hit, we had to find a way to move forward. We asked ourselves – what do our families need from us? What do our teachers need from us? How can we build a bridge between the two? I firmly believe that we are here to serve both. A group of parents, teachers, Board members, and I decided that taking the preschool outdoors was the best and safest way forward. I wanted us to commit to a stable plan for the whole school year, rather than expanding and constricting over what was happening in the community, in hopes of lowering anxiety among staff and families. Staying committed to this plan has allowed us to keep our focus on play, learning, and being social. To me, the heart of preschool has always been around socialization and play for young children and with the outdoor model, I could protect this important piece of why we are here.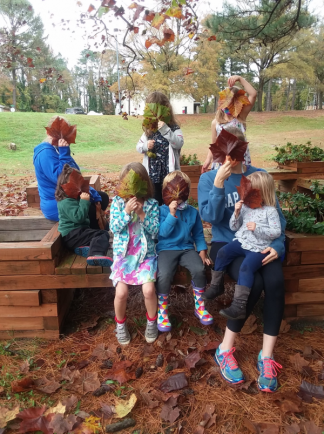 Had any of us done it before? No. Did we know how we were going to do it? Not really. Was it the safest decision for our staff and families? Absolutely. We weren't familiar with the new space we had just moved into. We hadn't built a relationship with the church. We didn't have the clothes, know-how, gear, anything. Yet, we jumped in! We were like tennis shoes in a great big puddle!
The learning is ongoing. We are learning how strong and resilient we are to be outside in all kinds of weather. At first we thought 40 degree weather was cold. Now our record low for operating outside is 24 degrees. We are learning how to adjust our activity planning and allow for nature to share its bounty with us. The children are so strong from playing outside – it's incredible! Their laughter, curiosity, and excitement has blessed us every day. As teachers, we have grown stronger too. We are learning a different way of teaching. It has been a hard year for everyone, but running underneath it all has been the much needed gift of being together and social while staying safe. 
You consider family involvement to be the cornerstone of your program. What does this look like in practice? And how has it changed during the pandemic?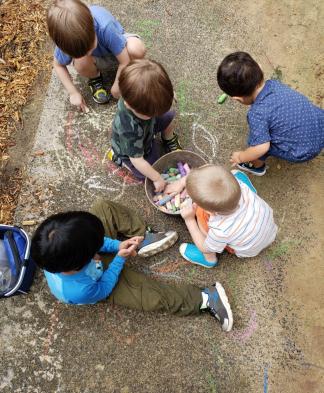 We've always had a broad, inclusive view of family involvement. In order to be welcoming to all family structures, we have to understand that some families are able to give time and resources some years and some are not. We've never made an hourly commitment or tracking system around family involvement. We want people to share their gifts when they are able and in a way that carries meaning to them. The pandemic hasn't changed this community value. 
I'm getting tears in my eyes thinking of all the ways families have shown their support. We've shared what we've needed and families have answered. We've had tents, outdoor heaters, propane gift cards, rice socks - all donated. And the list goes on. Families are struggling right now and yet they have still found big and small ways to keep our preschool going. We've had families not able to attend this year who have donated their tuition deposits, monetary gifts from employers, and mulch for our playground. From afar, they've followed us, cheered us on, and so much more. Our community is special because of the care we have for each other, regardless of whether their children are currently enrolled in preschool or they were connected to us in the past.
What kind of feedback have you gotten from parents and families following the decision to move to an outdoor model?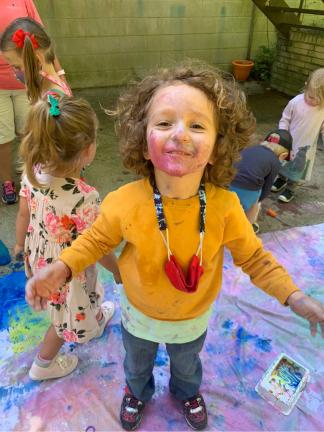 These quotes from parents speak for themselves: 
After the first week of preschool one parent wrote. "I just want to say a big tearful thank you for everything you've done/are doing for this school year. I was so conflicted going in (and still know it's gonna be a crazy, hard year) But the beaming smiles from my boys before and after school make me feel so optimistic and grateful, two things that 2020 has almost made me forget. All of your hard work and dedication is very noticed."
"My 3-year-old is the happiest person in my household. This year's model has been life giving."
There you have it. Durham Community Preschool's transition to an outdoor model has been life giving during an exceptionally difficult year. 
Don't pass up this beautiful video that staff and families created, showcasing their joy and happiness:
A final note from Rose on the value of connection: 
I was blessed to have a connection with Beth Cranford who works at the Museum of Natural History in Raleigh, NC. She has been passionate about outdoor learning and was my first go-to when we found ourselves going outside. She had books, links, newsletters…and that was how we found the Natural Start Alliance!! We are discovering a whole new side of education. It's been so comforting to know that other programs are doing this every day and have been doing it for years. It made us feel like we could do this even when it felt overwhelming. All of us—teachers, families, children, and I—walked into this model not knowing. We didn't know how to dress, what to expect, or how to do it. Everyone this year has shown courage, resilience, and adaptability. It's made us stronger, nurtured a love for being outside, and has given us tools to enjoy all kinds of weather.