Member Spotlight
Everyday Explorers: Early Learning Center
Located in the remote fishing hub of Cordova, a small community nestled within the Chugach National Forest and Prince William Sound of Alaska, you will find Everyday Explorers: ELC, an unconventional collection of child-led co-learners; an eclectic tribe of children, their families, and teachers who share corresponding values for their successive generations regarding their relationship with, and responsibility to, our natural world. 
I founded the ELC as an alternate early learning experience that would provide opportunities to connect young children with the local environment, a program propelled by the community of innately inquisitive kids in attendance; a place that handed childhood back to children. 
After nearly a year of stitching together a program (where Italian inspiration met environmental acclimatization) and meticulous licensing preparation (resuscitating the days of
Roxaboxen
in accordance to state regulations) the program began to animate.
Next came the strenuous staff recruitment (pooling from a seasonal population of about 2,000) and laborious facility renovations. Following a flawless licensing inspection, Everyday Explorers finally opened its doors on October 1st, 2014, as one of the first state-licensed, Reggio Emilia-inspired, nature preschools in Alaska.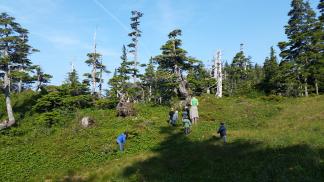 I can defend the worthwhile challenge of getting young children outside as often as possible in Alaska's inclement climate with Erin Kenny's merited motto, "Children cannot bounce off the walls if we take away the walls." 
Even the unruliest of children find their serenity in nature. Every sense is activated; they're spying spider-webs, heeding an eagle's screech, smelling musky skunk-cabbage, scraping knees & climbing trees--maybe they're even trying to eat a bit of dirt! 
The beauty of it is that they are making connections, threading experience with insight, analyzing their environment and their role in it--all under the impression of play!
These children are acquiring a sense of accountability that will resonate for the rest of their lives; the lovely lessons of taking care of themselves, one another, and our planet. They spend an exceptional amount of time in these grand spaces that reveal just how immense and rich the world can be, and rather than feeling small or incapable (as they are subjected to most of their childhood in a world designed for humans over 4 feet tall) they unite, test boundaries, assess risk, and uninhibitedly explore their surroundings.
"Now I see the secret of the making of the best persons: 

It is to grow in the open air and to eat and sleep with the earth."
-Walt Whitman