Member Spotlight
Eyes of the World Discovery Center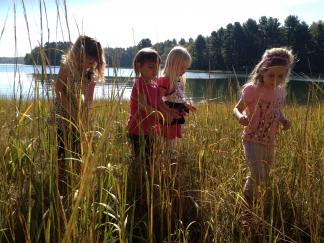 When children arrive at the Eyes of the World Discovery Center, they are greeted with a welcoming and exciting community which encourages them to explore, imagine, and learn in the natural world around them.
Located in the seacoast town of Kittery, Maine, students have conservation land, forest, and the ocean right at their fingertips. Not only are children able to adventure on the overgrown pathways of Roger's Park, but they also let their imaginations run free in the Outdoor Classroom which is nestled in the wooded area behind the school building with access to beautiful vines, hills, natural cubby holes, and plenty of space to greet animals, dig up worms, and explore their surroundings.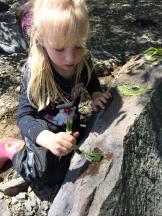 Eyes of the World's preschool program empowers children to become creative, independent problem solvers in both indoor and outdoor settings. Students are encouraged to push their own boundaries while climbing trees, swinging on vines, and running through the woods. Through outdoor play, children develop self-esteem, the confidence to overcome obstacles, and a sense of purpose. These are all attributes that remind students of the importance of developing a sense of themselves and the world around them.  
While hiking through the forest in rain, snow, and sunny days, students are reminded of the number-one rule while exploring: Be Aware! Every day is a new day in the woods of Roger's Park. Children are encouraged to stay observant for their own safety and the safety of the wildlife around them. Throughout each adventure, children reflect on their excursion. As a group, they discuss what they have seen, heard, and smelled on their journey and how the experience has made them feel. Students spend a lot of time mapping their adventures through the woods, which helps them to develop a sense of the seacoast area around them.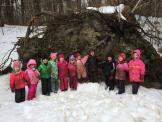 Each season brings new and unique learning opportunities for the Eyes of the World students. The preschool has a very important motto that helps prepare children for all climate changes:
There is no bad weather, just bad clothing
! With this in mind, students are able to venture outdoors during rain and snow, cold days and hot days. This past year, children were able to: experience the changing leaves in fall, track animals in the snow and float icebergs down the creek in winter, and study Jack in the Pulpits in spring. The New England seasons provide the school with invaluable resources for deep and creative learning experiences.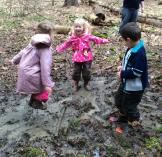 Children at Eyes of the World Discovery Center are immersed each day in lessons of science, respect, nature, literature and core academic foundations, while surrounded by big maple trees, swinging vines, muddy hills, babbling creeks and special forts to call home for a school day.  
Written by: Meghan O'Leary, Co-Teacher at Eyes of the World Discovery Center