Member Spotlight
Frazer Center's Child Development Program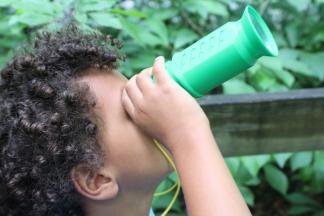 The Frazer Center is nestled in a 39-acre old-growth forest in the heart of Atlanta. In 1949, Frazer was founded as the Cerebral Palsy Center in the basement of a church. As laws and best practices involving people with disabilities have evolved, so has the Frazer Center. Today Frazer has a program for adults with disabilities as well as an early childhood education program for children with and without disabilities. Frazer hopes to serve as a model of inclusivity for other early childhood centers. 
Can you tell us more about your early childhood program?
Frazer's Child Development Program is a NAEYC accredited inclusion program serving children from birth to five years old. One in five people in the U.S. has a disability. Likewise at Frazer, about twenty percent of our children have a developmental disability or are at risk for a developmental delay. This ratio is an intentional part of the foundation we strive to create for children to develop into caring, compassionate, accepting, empathetic adults. Fostering inclusive communities is the heart of our mission.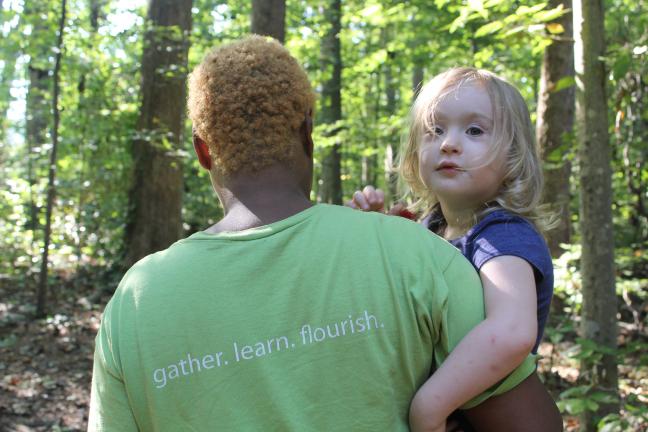 What role does nature-based learning play in the Child Development Program?
Frazer Forest is a vast and unique outdoor classroom right outside our door. With this invaluable resource we are developing a forest-based curriculum that will complement the play-based Creative Curriculum® already used in our classrooms. For now, Frazer's preschool and pre-k teachers are taking their students into the Frazer Forest outdoor classroom twice a week, experimenting with newly acquired resources and making discoveries of their own. But this is just the beginning of Frazer's forest-based curriculum development project. Eventually, every teacher will be heading into the forest to teach lessons. 
A team of teachers and administrators are receiving training in outdoor education techniques, culminating with certification to train other educators. All of our Child Development teachers and staff are involved in the process of creating this new curriculum, from experimenting and discovering with the children in the forest to adapting activities for toddlers and even infants. 
Once we have piloted this new forest-based curriculum, Frazer Center will share the curriculum at no cost and open Frazer Forest to other early learning centers in the metro Atlanta area, giving priority to those that serve low-income families.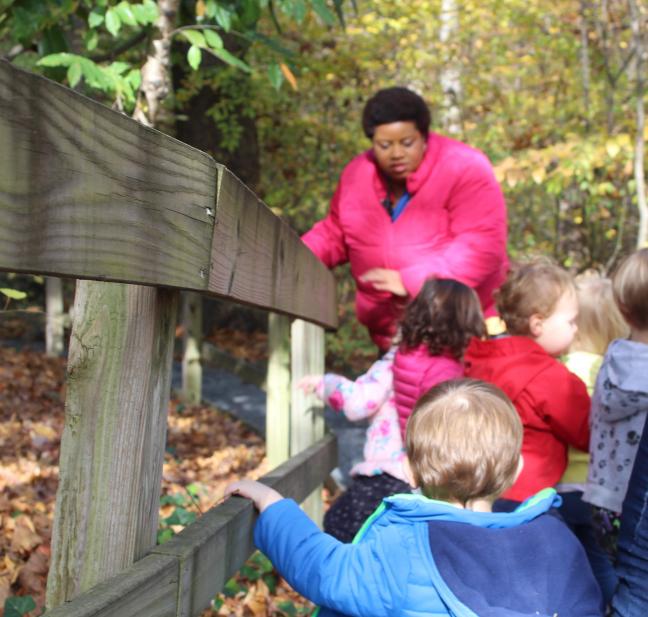 You place inclusion at the heart of your mission. Can you share more about what that looks like day to day?
From Frazer's hiring practices, to communications, to the ins and outs of our programs for adults and children, Frazer envisions a world where "inclusion" is no longer a mission but the norm. 
In our Child Development Program, inclusion means that children with and without disabilities are learning and playing together. An inclusion specialist observes the class and coaches the teacher on ways to adapt the environment and curriculum to assist a child with a disability or ways to empower a child to participate fully in an activity with their peers.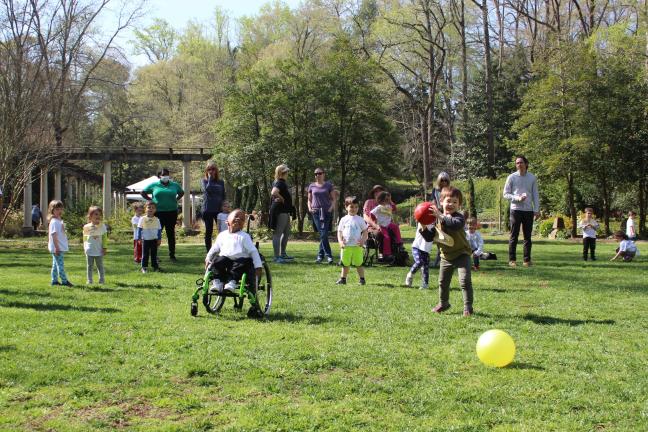 Do you have any advice or suggested resources for nature-based programs that want to be more inclusive of children with special needs? 
The most helpful thing we've found is having a team approach to supporting children with special needs. When a child with special needs enrolls in the program, and at least quarterly after that, we bring together the child's parents, teachers, therapists, and anyone else who may have a support role in that child's life. There's also frequent communication between team meetings. This team helps teachers understand how to adapt the environment or tailor curriculum so that a child feels comfortable and engaged and is progressing toward his or her developmental goals.