Member Spotlight
Herb Broda
Moving the Classroom Outdoors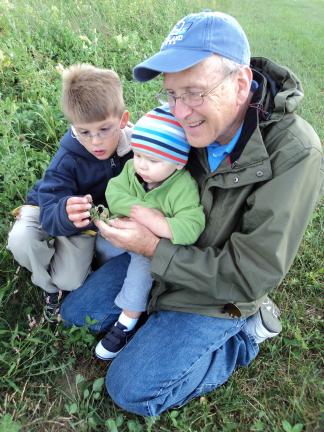 Whether you call it a "sense of wonder" or the "wow" factor, it's a response that is innate and beautiful to watch: stones are reverently turned over in little hands, flowers are gently sniffed, and even tiny insects are blessed with wide-eyed curiosity. I'm committed to helping children develop the "wow" factor—that excitement that develops when video-saturated kids see something unexpected in nature.
All too often, however, many kids have this natural sense of wonder quickly eclipsed by flat-panel screens and busy schedules. Digging in the dirt is replaced by staring at video images, and unstructured play time is trumped by an overstocked schedule. Indeed, schools may be the only place where some children are encouraged to interact with nature.
My mission is to be an outdoor learning problem solver—someone who can help teachers enrich their school sites with low-cost/no-cost site enhancements that encourage using the schoolyard as a teaching tool. I focus on helping teachers find ways to use the outdoors to reinforce concepts that are often traditionally taught indoors. Nature is a rich and vibrant classroom for teaching literacy, math, science, and creative arts, as well as developing social, physical, and emotional growth. 
To help teachers use the schoolyard as a powerful teaching tool, I provide information about such topics as:
planning for outdoor learning and site enhancement
enhancing the school site with little or no cost
integrating the outdoors into all areas of the curriculum
working effectively with children in the outdoors
developing volunteer programs 
planning for ongoing maintenance needs
engaging reluctant faculty in outdoor learning
locating funding sources
My two books, Schoolyard-Enhanced Learning, and Moving the Classroom Outdoors, are based on visits to dozens of schools and conversations with hundreds of teachers. The goal is to provide resources that can be easily utilized by teachers and schools in any setting—rural, urban or suburban. Outdoor learning is possible anywhere!
Especially at a time when children's natural curiosity about the outdoors is eclipsed by the demands of busy schedules and the ever-present glow of video screens, schools may be the only place where they are encouraged to interact with nature. The first step, literally, is to step outside the building.