Member Spotlight
Imua Inclusion Preschool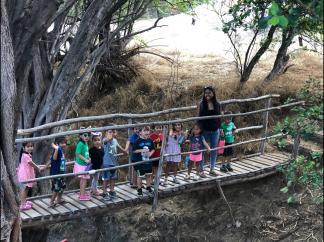 Imua Inclusion Preschool is located on the Hawaiian island of Maui. With a classroom of 20 children, 25% of the class has an identified developmental delay or special need. In addition to teaching staff, there are often additional providers working within the classroom to provide special education, speech therapy, occupational therapy, physical therapy, and ABA therapy services. The outdoors is essential to Imua's teaching practices and philosophy of place-based education. Natural Start spoke with Lynette Constantino, the Preschool Director, to get a better sense of the program and to gather tips for nature-based programs working to be more inclusive of children with disabilities.
We know learning in and about the natural world is a central part of your program. Can you tell us what that looks like day to day? 
At Imua Inclusion Preschool it is part of our ongoing curriculum that the children are learning the significance of our land and ocean along with the Hawaiian culture. The children engage in gardening and walking trips to the park on a weekly basis; we take regular outdoor learning trips to places such as lo'i (taro patches) and tide pools; and we celebrate Forest School Fridays each week by holding entire day's class at Maui Nui Botanical Garden, where the children learn about our Hawaiian native plants. As a precaution for the pandemic, we recently modified our outdoor playground area to be used as an outdoor classroom, allowing us to break the classroom into isolated groups and spend more time outside. One of the advantages of living on a tropical island is that the weather remains mild even in winter, so we're able to utilize our outdoor environment all year round.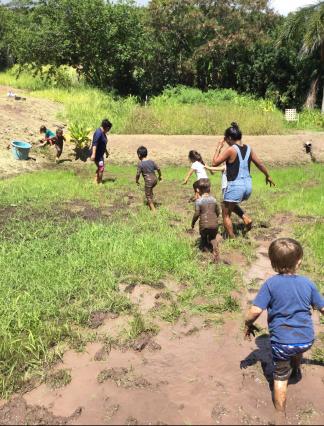 Imua Family Services recently shared plans for expansion, including a second preschool called The Imua Discovery Garden, with a greater focus on nature-based learning. Tell us more about your vision for this new space. 
The vision for Imua Discovery Garden came out of the strategic planning process for Imua Family Services. The space was envisioned to address many needs both at our agency and in our community. One of those needs was to have a safe outdoor space for children, families, and our therapists to access for play, family bonding, or for services. The property will include open grass areas as well as curated exhibits where children can experience things such as a sensory garden, butterfly house, greenhouse, aquaponics, and a discovery playground. Of course, the highlight for the preschool will be our second location that will be on this property. Our preschool will have access to all the different features along with our outdoor classroom. When Imua Discovery Garden is finally completed, we hope to have regular visits from other preschools where we can share the benefits of learning in nature, and perhaps host regular Forest Fridays of our own.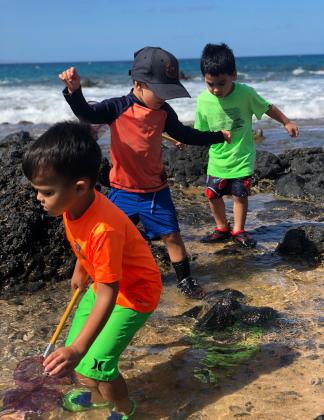 As an early childhood educator and behavioral therapist, you get to see first-hand the impact nature has on the young children you work with. Can you share your experiences with how bringing nature into the curriculum can shape young children's behavior and learning?
I've found that nature has a special way of helping children unfold their curiosity and enhancing their learning no matter their abilities. As an early childhood educator and behavior therapist, I see the impacts nature has on behavior and learning, and how it can help children address their unique needs. One example that I share often is related to the children we've worked with who have identified sensory needs or who exhibit disruptive behavior. In an indoor setting, we would sometimes identify that these children would benefit from big-muscle activities such as pushing, pulling, and lifting, and so we would have to find ways to accomplish that in the classroom. When these needs were not being met, we would see these children seeking out those types of activities through their behaviors, oftentimes in ways inappropriate for inside play. But bring those children outside, where those needs are easily met through nature and the outdoors, and we would see many of those behaviors decrease. As Erin Kenney quotes "Children cannot bounce off the walls if we take away the walls!" 
Learning happens everywhere, but that is especially true of the outdoors. Nature provides a landscape and tools that we as teachers and service providers can adapt to help our children address their needs and achieve their goals. It's a bit different from a typical classroom. Outside, a stump can be a chair, a table, a building block, and any number of things. Inside, it's difficult to imagine a chair as anything other than a chair. I really enjoy seeing the children go wild with their creativity with all the open-ended, loose parts that nature provides for us. Our transition to working in more naturalistic environments has helped us see many things, but the thing I value the most about this transition has been seeing our children with a sense of wonder, freedom, and true happiness in nature.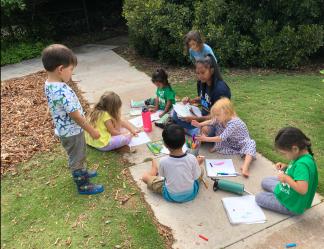 We often hear from nature-based educators working to build more inclusive programs. Do you have any tips to share for programs that are taking steps to include more children with disabilities in their outdoor programs? 
Most programs, even those not identified as inclusion programs, will often have children who require some extra help. One of the things I try to practice myself is to focus first on the child's strengths and to really look hard at how to include or incorporate those strengths during our time outdoors. I've found it advantageous to focus on what a child can do before thinking about what a child cannot do or what they would have difficulty doing. That said, it is also crucial that we get to know each child as an individual, figure out where they may need supports, and think innovatively about how to get those supports into place. It is also important to collaborate with the families to ensure specific plans for their child. This will support the families in feeling safe and confident that their child is getting the appropriate care and supports. Every child has a right to play, and every child has a right to explore nature. It is important not to treat disabilities as a barrier to outdoor learning, because all children thrive when they are in nature.