Member Spotlight
Keeping it Green at Nike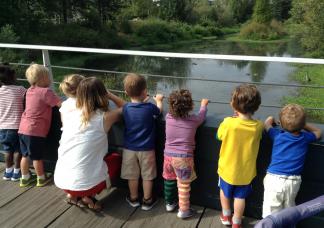 The Nike World Headquarters in Beaverton, Oregon, is home to the Nike Child Development Program (NCDP), which supports Nike employees and their families. NCDP has over 500 children birth-five in care daily within three child care centers: South Campus Center, C. Vivian Stringer Center, and Nike Tykes. The program curriculum reflects Nike's commitment to sustainable practices and active lifestyles.
Exploring the Nike Campus
Children regularly explore the Nike World Headquarters campus, which features 43 acres of native woodland and wetlands, and a 7 acre spring fed lake. Native plants are abundant throughout the campus, creating a natural habitat for wildlife. Several miles of pathways provide employees and children a closer look at the wildlife. Children search for ducks, geese, nutria, squirrels, frogs, and much more while out and about. Classrooms take walks regularly, engaging children in creative ways with the local fauna and wildlife. Many classrooms create simple scavenger hunts by printing out photos of the wildlife and sending the children on hunts throughout the natural settings available nearby. Frequent sightings of ducks, frogs, great blue herons, turtles, and more occur while exploring. 
Center Playgrounds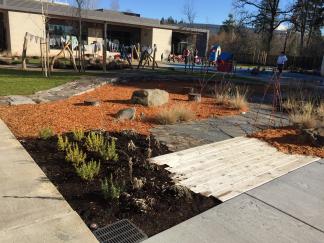 The NCDP center playgrounds place a premium value on nature and natural products. A newly redesigned toddler playground features sand exploration, a large musical instrument, and a multitude of textures in the form of grassy areas, stepping-stones, logs, and a rock wall. Repurposed log rounds, river rock, and bamboo poles have been added for the children to independently explore and use freely.
All playgrounds have community gardens where the children play an integral part in maintenance throughout the seasons. In the spring, seeds are provided for the children to create gardens from seed to harvest. A program-wide planting day takes place in the spring, where children participate in digging holes and transferring the plants into the garden beds. All through spring, summer, and fall the children help water the plants and assist in harvesting. Vegetables are harvested and prepared in collaboration with our kitchen staff to create healthy food choices for our children to eat during lunch and classroom cooking projects. Fresh green beans are a favorite to eat right from the bush!
Through the curriculum, teachers bring the outdoors in by extending the children's interest in what they find and see outside. For example, butterflies have been raised from cocoons to release in our community gardens, and in preschool they utilize worm bins where they feed food scraps to the worms and collect the liquid fertilizer to also be used in our community gardens. 
Keeping it Green Indoors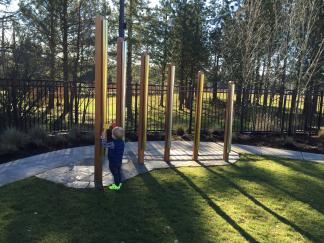 Inside the classrooms, the play materials reflect our commitment to building relationships amongst children, their caregivers, other important adults, and the natural world. The resources used in our classrooms meet the most current standards of safety. We access professional research to guide decisions regarding purchasing the most "green," safe, sustainable, functional, long-lasting and nontoxic supplies. The centers are certified as Eco-Healthy Child Care Centers through a program of the Children's Environmental Health Network created by Oregon Environmental Council.
There is No Finish Line
The staff of the NCDP continue to learn about best practices and current research related to nature education, green and sustainable products, and curriculum that enhances children's physical development. The program follows one of Nike's Maxim's—"There is no finish line"—by continuously learning new ways to enhance our children's learning and environments with the aim of "Keeping it Green."