Member Spotlight
Little Tree Huggers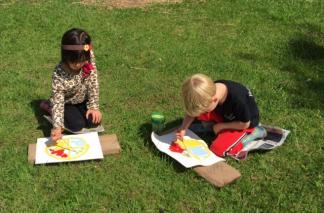 We sat down with Lia Johnson, the founder and director of Little Tree Huggers, to learn more about the first bilingual, green preschool in Leesburg, Virginia. We loved the mix of cultural and environmental focus in the program and wanted to more. Here's what we learned, edited for space. 
What makes your school special?
Little Tree Huggers LLC is Loudoun County, Virginia's first bilingual eco-green preschool with the goal of encouraging children to connect with nature, care for the environment, and celebrate and respect the diversity of our multicultural world. With a carefully planned farm-like setting, historic barn and chicken coop, plus plenty of surrounding wildlife, Little Tree Huggers (LTH) is committed to offering daily opportunities to learn about and care for the environment.  As the founder and director, I'm passionate about the arts, embracing all cultures and taking care of our planet.  With a quarter century of experience in early childhood education, I'm convinced that experiencing and learning about nature and the environment are integral to creating the culture of environmental stewardship our planet needs to survive.
How are you promoting environmental stewardship?
At LTH, we are striving to become the first carbon neutral preschool in the area. We believe that an eco-green environment is essential for healthy minds and bodies. We do our part daily to sustain the planet, celebrate the wonders of nature, and set an example for other households and businesses in the area. In order to achieve this goal, we had our property accredited as an Audubon at Home Wildlife Sanctuary by the Loudoun County Nature Conservancy, and converted our oil burning HVAC system to geothermal. We currently have a solar panel providing ventilation for our chicken coop and are looking for partners to assist with the expansion of our solar panel array and possibly a wind turbine or micro-hydroelectric system by 2020! 
How is cultural diversity incorporated into your program?
In addition to having their lessons in art, math, science, history, geography are held as much as possible outdoors, the preschoolers (ages three to six) are also taught Spanish daily, while Spanish is incorporated into the daily curriculum. Exposing the children to the various languages and cultures is part of LTH's mission, and the children are encouraged to prepare projects highlighting family histories and backgrounds; while parents are involved in LTH's Community Hero Program, which involves sharing their talents and family backgrounds with the children.    
What's a typical day like at Little Tree Huggers?
An average day has the children spending much of the time, rain or shine, observing over 20 native birds, mammals, reptiles, amphibians, and insects that are needing help due to loss of
habitat, as well as helping out on the working farm. They feed the animals—a pony, two alpacas, three goats, a dozen hens, and five guinea hens—and help clean out the pens and put down fresh straw. In the mornings, they pass the school's windflower and pollinator gardens, beautiful forest glade, bridge and stream on their way to the chicken coop to collect eggs, which in turn become the basis of a tasty cooking lesson later in the day.  Lunches are spent further observing their surroundings and discussing the best ways to reuse, recycle, or compost any waste. During playtime, the children's creativity leads the way.  
What is your outdoor play space like?
You won't see a multi-thousand-dollar playground at LTH.  Instead, the children have access to a simple tree house; nature observation deck; an obstacle course made out of natural stones, logs, and branches; wooden blocks; and lots and lots of free space.  I believe that nature is what provides the opportunity for creative learning.  
How do you manage risk?
As far as risk is concerned, LTH strictly follows Virginia Department of Social Services guidelines, maintains a student/teacher ratio of 6 to 1, and regularly involves parents in activities.  In addition, as the curriculum is cumulative, progressively encouraging interaction with the animals and fostering responsibility, LTH only accepts full-time students with a minimum of 6 hours per day.