Member Spotlight
Live and Learn Early Learning Center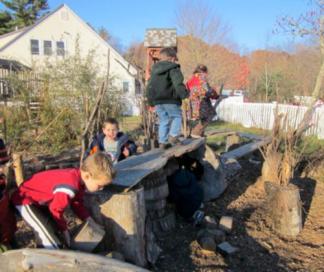 Started in 1974, Live & Learn Early Learning Center in Lee, New Hampshire, sits on a 25 acre farm. At Live & Learn we believe that curriculum is a living, changing medium of learning that grows and changes with the community's needs. At Live & Learn we like to call it a negotiated curriculum taking the children's wonders and mixing that with the teacher's passion. We take the results and implement it in a natural foundation with open-ended activities and play. Our nature-based and play-based curriculum and environment expose children daily to the natural world right outside the back door.
We believe in the fundamental importance of children's ongoing experience in nature as the foundations for creativity, problem-solving, and critical thinking. Our basis of play to learning creates an atmosphere that ultimately works toward creating a cohesive community. We have taken to heart the writings of Richard Louv's, Last Child in the Woods and made "nature deficit disorder" extinct at Live & Learn. Children express interests and ideas, explore nature and curriculum materials in playful ways, reflect on their experiences and form conclusions. Through this process, children develop confidence and independence with encouragement from families, teachers, and community members.
Taking to heart Rachel Carson's The Sense of Wonder, the teachers of Live & Learn journey daily with children to enjoy and explore the pleasures of walking in a puddle or stream, digging for salamanders, and learning to appreciate what nature has to teach, and why this matters. The enjoyment of childhood and taking time to be a kid is embodied here.