Member Spotlight
Mid-Columbia Children's Council Tygh Valley Head Start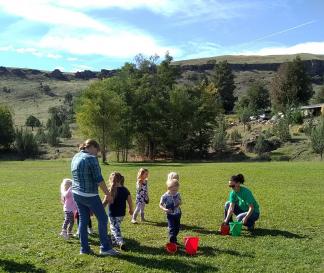 Mid-Columbia Children's Council Tygh Valley site (a Head Start program) is situated in a rural part of Oregon, southeast of the Columbia Gorge area. It has a population size under 1,000 and MCCC is the only preschool option for families. This small town is home to mostly white families of whom 25% fall below the poverty line.
Before the pandemic hit, the children at Tygh Valley spent the majority of their time inside the classroom, which is located in the heart of the town community center. In September 2020, that changed. Children began spending all of their time outdoors except during naptime, eventually transitioning to sleeping outdoors as well. During winter, cold temperatures brought children and teachers indoors for some of the time. This site has not had to shut down once due to a COVID-19 exposure, remaining open and running at full speed, whereas many other of MCCC's 17 sites have needed to close due to a Coronavirus exposure.
We spoke with Velvet Cooley, Chief Operating Officer of the Mid-Columbia Children's Council, to learn more about outdoor learning at Tygh Valley and the potential for more outdoor learning opportunities within Head Start programs. 
Velvet, we read that you recently completed a doctorate degree researching how to encourage teachers' use of outdoor learning environments. What did you learn from that work that helped you to set staff up for success when taking learning outdoors? 
I discovered that outdoor learning environments encouraged the teachers participating in my study to take their children outside and create activities to support their learning using natural elements. Most teachers found that the children who typically needed extra support to be successful indoors became more independent and engaged in activities when they were outside. All of the children were able to direct their own play, participate in many different types of learning activities, and were able to stay engaged longer in an activity, resulting in higher outcomes during the year. Furthermore, challenging behaviors were occurring less often and, for some classrooms, ceased altogether. 
An example of this was witnessed when teachers noticed several children did not want to write or draw during indoor learning. However, when they were outside, they were happy to "document" their learning using paper and pencil to share their discoveries with their parents. In addition, teachers found that the majority of children ate better during mealtime and slept better at naptime. Currently, the teachers who participated in my study continue to use outdoor learning environments.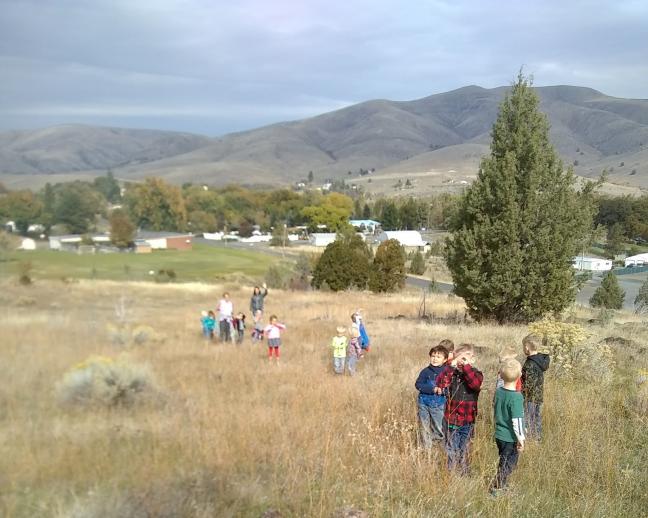 What barriers do you see to more Head Start programs spending more time outdoors, real or perceived, and what can be done to address those barriers?
There are three common barriers. First, teachers do not know how to set up outdoor learning centers or use natural settings as their classroom to develop skills identified in the Head Start Early Learning Outcomes Framework. Training on how to set up outdoor learning centers and using the natural environment as a classroom would remove this barrier. Second, teachers fear the weather is a barrier and forget that there is no bad weather, only bad clothing. Teachers should plan ahead, inform parents that they will be going outside and ask them to dress their children appropriately, and provide alternative clothing such as boots, rain gear, warm coats, etc. for those in need. Finally, the parents are sometimes reluctant to allow their child to participate in an outdoor only model. Parent education on the value and benefits of outdoor learning usually eradicates this reluctance. Also, inviting parents to join in or visit to see for themselves what happens outside usually encourages more participation.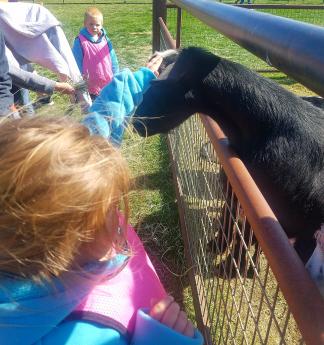 As you reflect on how being outdoors has changed the way children learn in your program, are there any of the Head Start Learning Domains that you believe are being met more effectively outdoors than indoors? 
I may be biased, but I see all the Head Start Learning Domains from the Head Start Early Learning Outcomes Framework are being met more effectively outdoors. If I had to pick one, I would say it was the Approaches to Learning domain that is being met most effectively. Children seem to become more independent outside and are able to regulate themselves better. Their natural curiosity is sparked by the unpredictability of the outside world and creativity seems to increase. I have also witnessed increased social and emotional skills. One little guy in an indoor classroom would not engage with any other child or show any interest or care for the other children. Teachers were amazed when this child heard a classmate cry outside, he stopped what he was doing and began watching the other child. The boy assessed what he thought was happening and reached out to a teacher to tell her the concerns he had for his classmate and what he thought the problem might be. The teacher was amazed since he would usually cover his ears, yell, hit, and throw things when crying happened inside the classroom. The outdoors had a calming effect on this boy and did not overload his own senses so he could see and care for his peer. In addition, this boy rarely spoke to teachers, so having him initiate this type of interaction was incredible!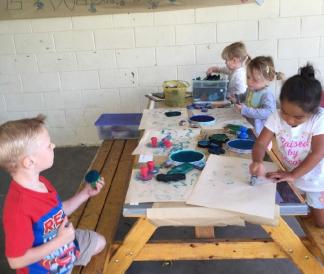 Oregon is working toward licensing outdoor preschools. Have you been involved in the Oregon Health & Outdoors Initiative, and if so how? How would that benefit your program?
My only involvement in working toward licensing outdoor preschools is to share the success of our Tygh Valley site. We are fully licensed and continue to meet all the licensing rules and regulations. We are fortunate to have an outdoor area just outside our classroom. This can be more difficult with a program that would like to be completely outdoors. A natural setting in Oregon needs to be completely fenced, have access to plumbed restroom facilities, and follow the outdoor temperature guidelines. We are fortunate to have the ability to bring children indoors if the weather is too hot or too cold. We would love to have a natural water feature, however, this would create some difficulties with licensing. In addition, creating fall zones for some areas could be difficult in a natural setting. If there would be some allowances for a different set of safety protocols for licensing outdoors, we could offer this type of program easier. In our area, we have access to the most beautiful scenery and natural settings in Oregon and Washington. We would love to take advantage of the hidden wonders the outdoors would bring into early childhood educational settings.