Member Spotlight
Natasha Warner
Child's Play Family Child Care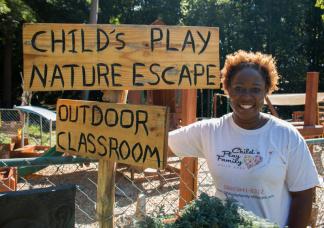 "By letting our children lead us to their own special place we can rediscover the joy and wonder of nature."
- Richard Louv
I stumbled on this quote a few years ago when my journey to create a unique, warm, and loving space that supports children's exploration and learning. That very quote played a key role in the inspiration for the creation and maintenance of our natural space, "Child's Play Nature Escape." Our play space is currently Connecticut's first and only certified Nature Explore outdoor family childcare classroom. We have children between the ages of 6 weeks-12years in our care, providing both inspiring childcare and preschool.
More about Our Journey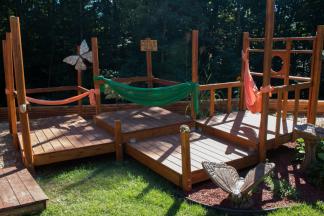 Memorable outdoor experiences were something that was lacking in my own childhood. So as an adult, I work to change my own experiences. Shortly after my mother's passing, I took on a love of her favorite hobby, which was gardening. I also took on being a caretaker like my mom. She spent many years taking care of the elderly; my path leads me to work with young children.
I've learned that the outdoor space is not only beneficial to children, but to the adults in their lives as well. Our space is set up to help both children and adults meditate and gain a spiritual connection to the natural world. To accomplish this, we provide children with a place to embrace opportunities where their thoughts are captured and where the joys of life are real.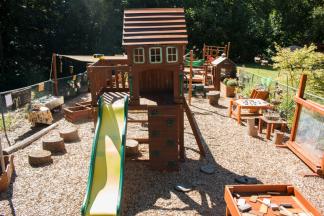 In our peaceful outdoor classroom, gardening is huge. The children help plan layouts of new gardens and what goes in them. They typically choose to help maintain and water our gardens. Harvesting from our vegetable gardens is by far their favorite activity. The different gardens provide a wealth of opportunities and experiences.
Our outdoor classroom also includes a variety of other experiences for children such as a Gathering Area, Action Area, Climbing Area, Nature's Art Area, Music & Movement Area, Building Area, Loose Parts Area, Dirt Digging Area, Sand Area, Water Area, Music Area, and Mud Kitchen Area.
Our plan for the future is to continue to enhance our space to promote a creative atmosphere that connects children to nature and maximize their learning experiences. I think my mother would be proud!
Child's Play can be found online and on facebook.