Member Spotlight
NatureStart: Early Childhood Initiative and Professional Development Program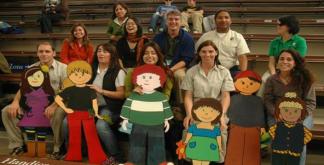 Since the Chicago Zoological Society opened Hamill Family Play Zoo at Brookfield Zoo in June of 2001, millions of children have benefited from its groundbreaking nature play program. We understand the importance of providing a child-centered learning environment where children connect to nature. These early play experiences cultivate a caring attitude toward the natural world and conservation issues.
Our childhood educators, known as Play Partners, create unique, informal nature play experiences, which allow guests to interact with animals and plants in developmentally appropriate settings. By combining our training, knowledge, and experience we have created NatureStart, a professional development program for informal educators in museums, zoos, aquariums, and nature centers based on the principles of early childhood education as well as conservation psychology. This program is organized around eight competencies for developing and implementing child-centered, developmentally appropriate nature play experiences for young children and their families. The competencies also address planning for sustainability at participating organizations. Participants are involved in face-to-face training as well as linked to an online professional development community with other informal educators who have attended NatureStart trainings.
The Chicago Zoological Society is pleased to share this valuable nature-themed resource with the education community. CZS has provided training to professionals in over 64 organizations such as zoos, aquariums, nature centers, forest districts, and a national park among others. As a result, a professional nature play learning community has now emerged. Educators learn how to assess their current programs and integrate the NatureStart program curriculum.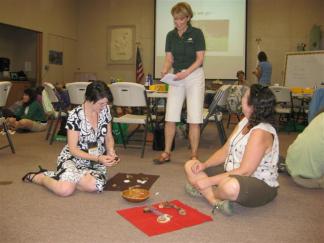 NatureStart is based on the understanding that nature play enhances the holistic development of children while also promoting a conservation attitude. The NatureStart approach recognizes that young children learn through play and that family involvement enhances and extends the learning experience. Research drawn from several different disciplines indicates that early experiences can have a profound and lifelong effect on how a person views wildlife and nature. This research-based understanding provides strong support for the NatureStart approach.
NatureStart Lead Trainers are David Becker, Senior Manager of Learning Experiences and Marilyn Brink, Manager of Professional Development and Early Childhood. They bring backgrounds in early childhood education, play space design and program development, and learning science in informal settings. A strong NatureStart team of professionals also contribute to this professional development program. 
CZS is proud to be a pioneer in early childhood nature play programming. We look forward to sharing our knowledge and expertise with more informal educators. Contact us at [email protected] to find out when the next training program takes place.