Member Spotlight
Newington Elementary Kindergarten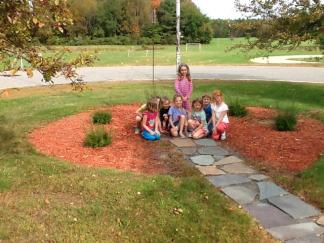 Two years ago, Newington Elementary kindergarten teacher Megan Guare had a group of 6 kindergarten girls who were bothered by the flagpole circle in front of their New Hampshire school.  According to Megan, the girls said, 
"Every day we ride the bus up the driveway past beautiful trees and flowers. When the bus stops at the school's front door we see the circle area in front of the building. There's a lonely flagpole surrounded by mud and 3 small trees. It looks sad."  
They talked as a group about how this area was the first impression people have of the school, and it wasn't a good one. The children said, "
When we arrive on the bus in the morning, 
we want the circle to make us smile." Megan helped her students turn their ideas into action.
Megan and her students applied to the Portsmouth Garden Club for a grant to help them create a garden in front of their school.  The grant was large enough to help them not only work on the flagpole area, but they also had enough left over to green the entry to the school, too. A local nursery helped the children make a garden plan and purchase the plants. And one Saturday, members of the school community came out to help the children 
weed, plant, and mulch the school's new gardens.
 The students and teachers are all thrilled with the results, and the kindergarten students at Newington have learned a valuable lesson: they can change their world!