Member Spotlight
Peter Dargatz
Woodside Elementary
Peter Dargatz is a nature kindergarten teacher at Woodside Elementary, a public school serving about 650 studentsin Sussex, Wisconsin. Peter is leading an outdoor movement within the Hamilton School District and has seen the magic nature provides in his classroom and through his Tyke Hikes along Wisconsin's Ice Age National Scenic Trail.
Because we receive so many questions about bringing nature-based education to public schools, we wanted to learn more about Peter's program. And to learn more, check out his outdoor blog at
talesfttrails.blogspot.com
or follow him on Twitter at @TykeHiker.
How did you convince your public school system to have a nature kindergarten at your elementary school?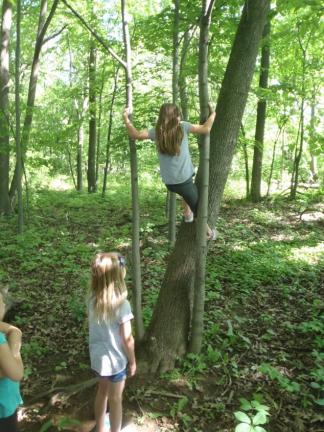 I spent a large amount of time figuring out my calling as an educator. While my students were achieving academically, I felt they needed more. With academic expectations rising and more and more expected of our younger learners, I aimed to provide an engaging environment that emphasized the whole-child approach. I researched play-based and nature-based instructional strategies, read article after article about the importance of outdoor experiences, and wrote up an extensive "outdoor education vision" proposal that was accepted by my direct administrators and district administration. I am grateful for their continued support as the program has not only been a huge success, but has shown that moving away from more traditional classroom practices and taking the classroom outside doesn't take away from our high expectations. In fact, offering outdoor opportunities has provided new learning activities and stronger curricular connections that simply cannot be replicated indoors.
Tell us about your natural area.
Directly behind the school is a beautiful oak savanna and wooded area. I designed and mowed about a half-mile trail on the land. We have also created some side trails to some of our favorite spots, including the rock pile, the fallen tree, sapling forest, and the inside tree. Restoration projects are underway with our kindergarteners planting new trees and native plants to replace some of the invasive plants and grazing grass that took over a good portion of the land.
What is a day like in your classroom?
Each day, we spend some time outside. At a bare minimum, we hike out to recess. However, most days, we will complete at least one full lesson outside and have time for natural play. On our nature days, we typically read a picture book about a topic that builds from a prior nature day. We then explore a part of our land in coordination with the topic of the day and find many other new lessons in the process. Unstructured natural play time is also at the core of our outdoor days. These experiences clearly provide the 4 P's (play-based, place-based, personalized, project-based) that the students and I use to design our lessons together.
How do you involve parents?
I have an open-door policy. I invite parents to join us anytime they are available. I share weekly updates on my
Tales from the Trails
blog. We also work to connect nature to the students in a way that they can go home and share through their words and actions. My students become excellent tick checkers and garlic mustard pullers both at school and at home.
How do you deal with risk in the outdoor classroom?
Simply put, I do not avoid it. Children are underrated risk assessors, so after completing basic lessons on boundaries, stick safety, spatial awareness, and the like, the class takes responsibility for their own risk assessment. I am always there to help them make safe choices, but I am there to guide, not control, their decision-making. When given the chance and space to be independent in their decisions, they are motivated to safely learn, grow, and achieve in our outdoor environment.