Member Spotlight
The Saint Louis Zoo Preschool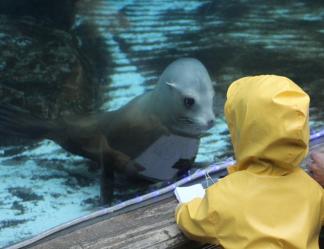 The Saint Louis Zoo Preschool, a Reggio-inspired, nature-based preschool, opened in 2014. Before the pandemic, the program served 36 students a year, including a 3-4 year old class and a 4-5 year old class, operating half day and spending at least 50% of the day outdoors, year-round. The pandemic required a shift to online learning for the '20-'21 school year, but the school found a way to continue its mission to nurture children and their families in a learning environment grounded in a healthy connection to the natural world, and to foster creativity, collaboration, and critical thinking through child-directed learning, while addressing the needs of the whole child and helping each individual reach their full potential.
They hope to become a licensed, full-day program in time for the '22-'23 school year. 
We reached out to Laura Seger, the director of the St. Louis Zoo Preschool, to get a better understanding of the program, how they adapted over the last year, and what's next. 
Can you tell us more about the connection between the zoo and the preschool? Do you have some favorite zoo stories to share?
I describe the relationship between the Zoo and Zoo Preschool as having our own very Mr. Roger's Neighborhood. We exist as a complete community, with a librarian, paramedics, security officers, and horticulturalists. Our students have the benefit of learning about community helpers first hand at Zoo Preschool, from planting seeds in the greenhouse to touring a construction site. On top of that, students are also part of a conservation community where they get to see ultrasounds of a baby orangutan and training sessions with sea lions. As student projects and interests emerge each semester, we reach out to resident experts who are always happy to meet with and help students expand their learning. Whether we are learning about bird nests, monarch butterflies, or animal scat, there is so much to explore at the Zoo. 
We've experienced magical moments when students connect with animals on a real level. One example is Mia, the sea lion, who loves to interact with the students. One winter day, when the students threw their mittens in the air, Mia swam around her exhibit, tracking their mittens. This was a big hit with everyone. Then, as we journaled by the sea lion viewing area, we noticed that Mia was watching the students draw. They began holding up their journals to show her their work, and to everyone's delight, she slowly swam by and stopped to look at each and every one of them. This is now a preschool tradition! 
Your mission emphasizes a healthy connection to the natural world. How were you able to maintain that while the preschool was virtual? 
Though the idea of virtual Zoo Preschool seemed antithetical to our philosophy at first, we were able to transform it into a truly unique program that continued to meet our mission in an even more personal way. Virtual class sizes were smaller than in-person, with a ratio of 6:1, students to teachers, and weekly one-on-one instruction. Classes were hands-on and student directed using natural materials. We provided caregivers with supply kits, individualized, standard-based curriculum, and support for implementing open-ended, child-directed activities at home.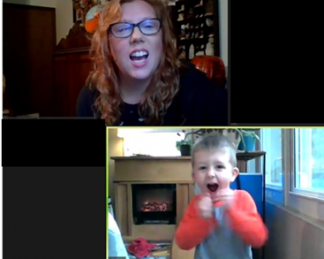 Our focus on nature connection and authentic experiences was incorporated into everything that we did. Students role-played turkey behaviors, played predator-prey games, and journaled about a live insect they observed together. We were able to recreate activities they did in person, such as leaf cutting, bark rubbing, and dissecting seed pods to strengthen their fine motor skills. In addition, caregivers could borrow materials from the classroom like looms, loose part kits, field guides, and more. 
We offered space for parents to connect with each other virtually, set up monthly one-on-ones for parents and teachers, and hosted interactive events for the whole family to enjoy. On Fridays, we went behind the scenes at the Zoo, allowing students and their families to see the animals and ask questions to the keepers. And every other month, families could meet in-person with teachers in local parks and natural areas. 
We reached families from four states and provided a safe learning environment for families with immuno-compromised relatives, among other things. Families were incredibly grateful to be a part of the program, even in its modified form. Through this experience, We were reminded of how resilient children are when appropriately supported. Despite not being able to be together in person, we saw children playing and making friends and observed their social and emotional growth.
You'll be presenting at the 2021 Nature-Based Early Learning Virtual Conference about measuring empathy in young children. Can you share some of the ways that you foster empathy in Zoo Preschool?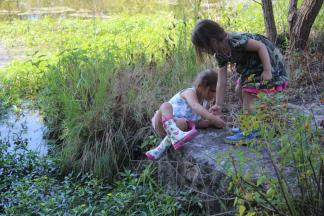 We focus on empathy development, not just because it naturally occurs at this age, but also because it makes us better humans and stewards of the Earth. Play is a great way to work on empathy skills, as young children are learning to collaborate, communicate, and self-advocate. Nature play, in particular, provides many opportunities for perspective taking. You see this in action as a student watches a friend's struggle to climb a tree that they have mastered, and, instead of continuing to climb ahead of them, they stop and help their friend in their ascent. 
Our amazing team of educators work hard to model appropriate behaviors and scaffold social interactions, only stepping in when guidance is required, and not to solve or fix a problem. These foundational skills help foster empathy for our human, animal, and plant friends alike, sowing the seeds for future conservationists to grow. We can see this emerging as students move worms off of the sidewalk, tell park visitors to watch out for a butterfly on the walking path, or when telling a friend that repeatedly jumping on a wobbly branch might hurt the tree.  
Don't miss St. Louis Zoo Preschool educators at this year's Nature-Based Early Learning Conference! With over 120 sessions (live and on-demand), pay-what-you-can pricing, group discounts, and access all year, there's no reason not to join us!