Member Spotlight
San Antonio Zoo and Zoo School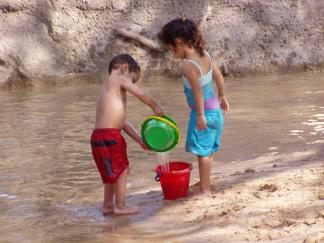 Explore

Get Dirty

Go with the Flow

Take a Risk

Get Wet

Care

Go Wild
These seven statements exemplify the
San Antonio Zoo
's philosophy on the importance of nature and play in healthy human development.  Study after study shows that children who engage in free play in nature are not only healthier, but also have more confidence, improved social skills, and are better at problem solving than children who don't play outside.  In short, to be happier, healthier and smarter …
go out and play
.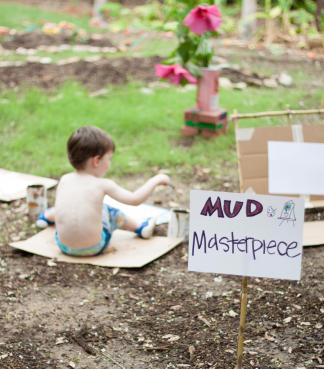 This vision started more than fifteen years ago, when the San Antonio Zoo began designing an interactive play space where families with children aged birth to five could really connect with nature.  Opened in 2004,
Kronkosky's Tiny Tot Nature Spot
was generously funded by the
Kronkosky Charitable Foundation
and was the first zoo exhibit of its kind anywhere in the world. Complete with a sandy riverbank to get wet and dirty; a backyard to grow plants and make mud pies; a campground to explore, and a meadow to run, roll, and play in; this dynamic play space has provided an opportunity for more than eight million families to enjoy connecting with nature.
Special staff called Playleaders set up all different kinds of nature play. Whether it's making treats for the monkeys, painting leaves, digging for grubs, or going on a bug safari, Playleaders make sure every day is different. This may be one reason the Nature Spot has such a loyal following.  Evaluated annually for more than ten years, we know that guests not only enjoy the exhibit, they return again and again. In fact, sixty-eight percent of guests visit at least once per month, and many visit weekly.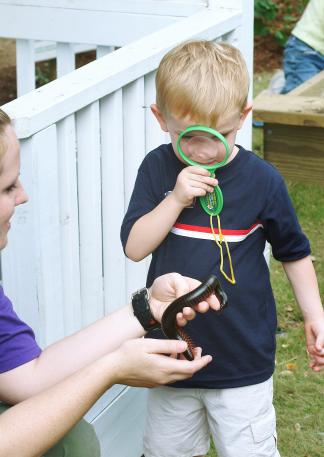 Zoo School
, the San Antonio Zoo's nature preschool, also opened in 2004 and is perfect for families who want to get even more involved in nature play. Imagine having the entire Zoo as your classroom! Fully licensed and open five days per week, this special preschool is based on the philosophy that children learn through play and uses methodologies from Montessori, Reggio Emilia, and Waldorf. By learning literacy, mathematics, social skills, and more through a lens of nature, children are excited, engaged, and empowered. 
There are no desks or worksheets in Zoo School. Instead, students spend at least half of each day outside exploring, hypothesizing, and characterizing their environments.  Want to work on sorting skills? Why not use acorns, rocks, pine needles, and mulch? For math, we count lion cubs.  Colors?  Let's visit the butterfly house.  But wait, there's more! Zoo School is not just for preschoolers. With regular family campouts, picnics, and night hikes, it's an experience for the whole family. Involving the entire family is one of the ways the Zoo works to provide continuity of learning and community for each preschooler.  This supports not only each child, but also each family. We love it when parents make friends and schedule play times outside of school.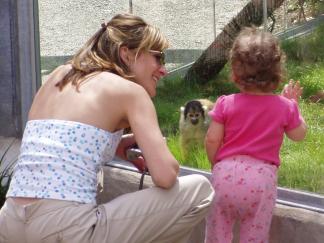 San Antonio Zoo has also been a proud and active member of the
Texas Children in Nature Alliance
since its inception in 2010.  Working with partners from this alliance and funded by a grant from the
Association of Zoos and Aquariums
and the
Disney Conservation Fund
, the San Antonio Zoo recently started San Antonio's first
Family Nature Club
.  Open to any family in San Antonio, this club schedules regular hikes, campouts, and picnics throughout many of San Antonio's natural areas.  
So whether it's a visit to the Nature Spot to play in the Riverbank, a campout with Zoo School, or an owl prowl with the San Antonio Family Nature Club, in the end, the fifteen-foot sign spanning the Nature Spot exit best sums up the Zoo's philosophy: Every Day, Get Outside and Play!