Member Spotlight
Seattle Children's PlayGarden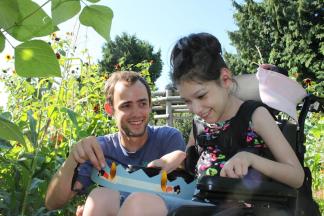 Founded on the core principles of Adventure Play, Garden to Table, and Full Inclusion, the PlayGarden is a one-acre urban oasis designed to be a safe, supportive, accessible, and innovative place for children of all abilities to play, learn, and grow. We asked Liz Bullard, the PlayGarden's Executive Director, to tell us more about it.
What does your physical space look like?
The Seattle Children's PlayGarden is located in south central Seattle in a public park. It is filled with an orchard, vegetable garden, pollinator gardens, a mud pit, playground, tree fort, wild zone, and farm. It also includes two buildings: a modern Garden House and a 1930s Parks Fieldhouse, which has restrooms, an ADA kitchen, a work studio, and two all-purpose rooms. 

What is a typical day like for you?
The PlayGarden is open as a public park from sunup to sundown. Our programs include an outdoor preschool, summer camp for children ages 3 ½ to teens, a Little Sprouts program for toddlers and their caretakers, seasonal festivals, and art classes. A typical day may include a family celebrating a birthday, teens playing basketball, treasure hunts in the wild zone, chickens, ducks, and bunnies.

How do you manage risk at The PlayGarden?
As the Department of Parks and Recreation is our landlord, all or our play features meet their standards for safety. In addition, the PlayGarden is fully fenced, unlike most other city parks. Our programs have a high staff-to-child ratio to facilitate safe play.
However, Hanna Rosin of The Atlantic Magazine argues that "...a preoccupation with safety has stripped childhood of independence, risk taking and discovery-without making it safer..." and The Journal of Pediatrics posits that "...stricter licensing codes intended to reduce children's injuries on playgrounds [have] rendered playgrounds less physically challenging and interesting." We whole-heartedly embrace children taking risks and playing as independently as they are able.
How have parents responded to your programs?
Kaite Walker, the mother of one of the children, shared the following with us:
"My son, Luca, has arthrogryposis. This means he was born with contractures in his arms and legs due to very low muscle tone. When we learned of the PlayGarden, we were elated to not only find a place that would accommodate Luca, but was created specifically for kids like him to integrate with typical kids.
"The PlayGarden has opened up a whole world for him, literally! He can play there in a way he has never played before. The teachers allow him to dig, create, interact with his peers, learn, and grow in a way that we believe is meaningful and exceptional. The PlayGarden welcomed Luca when other schools and camps would not. The PlayGarden affirms that he can do whatever he put his mind to, even though he has to do things his own way because his arms and legs work differently. It empowered Luca as a leader. It saw his strengths and helped him to act upon these strengths to find what he can do instead of what he can't. The PlayGarden gives him a chance to play, collect treasures, imagine, garden, make friends, and learn to cook like other kids can do effortlessly. The PlayGarden opens up the outdoors and gives him the confidence that he, too, can challenge himself and find freedom outside.
"The PlayGarden helped us as parents to let go and give Luca the chance to get dirty, take risks, and be included in an incredible community. I remember the first time I dropped Luca off at the PlayGarden. I was nervous and worried to leave him wondering if he would fall or be okay. I will never forget picking Luca up after the morning. He was sitting in a wheelbarrow laughing with mud all over his face having the time of his life. I knew from that moment that he was going to have a fantastic year with lifelong impact."
For more information about the PlayGarden, visit its website at childrensplaygarden.org