Member Spotlight
Secret Forest Playschool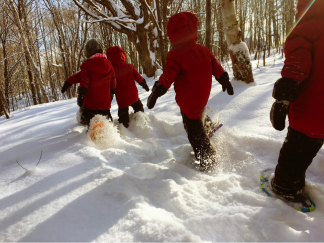 We love the mission of this full-day preschool in Duluth, MN to instill a lifelong love for play, a strong sense of self, and a growing relationship with the natural world. We asked Meghan Morrow, Founder and Lead Teacher, to tell us more about her program.
What does a day at Secret Forest Playschool look like?
Our days are busy! Children can be dropped off anytime after 7:30am and some stay as late as 5:00pm. A majority of the children's day is spent in nature. During the late spring, summer, and into early fall, the children are outdoors about eight hours every day. They play outside, picnic outside for snacks and lunch, and even take their naps outside in hammocks. During the transition seasons of early spring and late fall, children are outdoors for about five hours but are now napping indoors. And as winter approaches, the children are still spending three to four hours outside every day, but the time is more broken up. The Playschool is not a curriculum-based program, but rather curiosity-driven -- a lot of the children's learning comes from doing. Together, the children take on the role of both teacher and student.

How do you deal with winter challenges?
The children wait all summer for the return of Winter Maker and his snow! When winter arrives, we get out our gear out and suit up! The children enjoy winter because they can snowshoe, boot skate, sled, look for animal tracks, climb snow mountains (made by the plow), and have campfires (nearly everyday). They have even snuggled into their sleeping bags and napped outside in warm tents a few times! During the month of January, the children spend a lot of time talking about teamwork and learning about dog sledding. They look forward to our annual dog sledding field trip, when they get to be real mushers. Because the Playschool provides most of the winter gear (snow pants, parkas, and mittens) as part of enrollment, the children stay warm and comfortable outside in even the coldest temperatures. Having the same high-quality gear for all of the children keeps everyone happy in all kinds of weather. We love winter at the Playschool!
Tell us about the setting for your preschool...
We have 30 acres of pine trees, maple trees, hills, grasslands, a creek, and ponds. We have sunshine and shade. The environment allows the children to build forts, climb trees, discover wildlife (flowers and critters), plant a garden, harvest sap and boil it into syrup, splash in the water, and observe the life cycles of frogs, ducks, and butterflies. Being in a climate that has four seasons means that our natural areas are always changing, which keeps the children engaged. 

How do you involve families?
Families are what make up our wonderful community. With a small number of enrolled children and families (20 per year), everyone knows everyone! The Playschool fosters a sense of community by hosting quarterly family events that allow families to connect with each other. In the fall, we offer a Parents' Night Out, in the winter we have a Family Potluck with sledding, ice skating, and snowshoeing, in the spring we organize an all-Playschool (current families, past families, and incoming families) picnic at our favorite local park, and, to finish off the year, we have our Graduation Ceremony and overnight Family Campout! Who doesn't love a sleepover with their friends?!