Member Spotlight
SHP Leading Design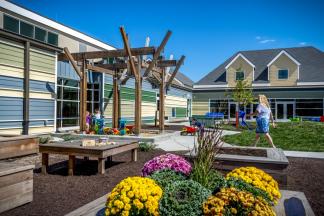 SHP Leading Design
provides architectural design, planning, engineering, and other services to educational institutions and other clients. We asked Ed Melvin, Landscape Architect, and John Noble, Project Architect, to tell us about their approach to the design of spaces for learning in early childhood.
Your company's architectural and landscape architectural services emphasize "life-long, life-wide and individual learning." Tell us more about how this relates to nature-based early childhood learning. 
Our focus within early childhood learning has been on creating alignment between pedagogy and space. Humans are naturally inquisitive creatures, seeking to understand all that is around them. This inquisitiveness is what makes us unique. We are learners, and children learn through play – what looks like goofing around is actually the scientific method in operation. I drop my spoon – it falls to the ground; I drop it again – it falls again. Repetitive behaviors are essentially experiments. And no context offers a richer variety of source material than the outdoors. Unfortunately, outdoor elements are often viewed as extras in the design of spaces for learning – as bonuses to be added only if the budget allows. So we have been exploring various ways in which to integrate the outdoors into the base design. 
Even the educators in later stages of learning (k-12 through graduate school and beyond) are discovering what early childhood educators have always known – that the keys to learning are immersion, engagement, collaboration, learning by doing, self-direction, scaffolding, embracing the natural environment. The list goes on and on but the takeaway message is that learning strategies that underpin the most successful early childhood pedagogies correspond to ways in which we learn throughout our lives. The science backs this up – natural lighting improves speed and efficacy of knowledge retention, acoustic conditions have tremendous implications for learning, the ability to move and fidget (perhaps counter-intuitively) deepens engagement. Learning is not confined to a particular place, time, or environment. It happens at the breakfast table, in the classroom, on the playground, at bedtime, and everywhere in between. Our inquisitive nature extends life-wide and life-long.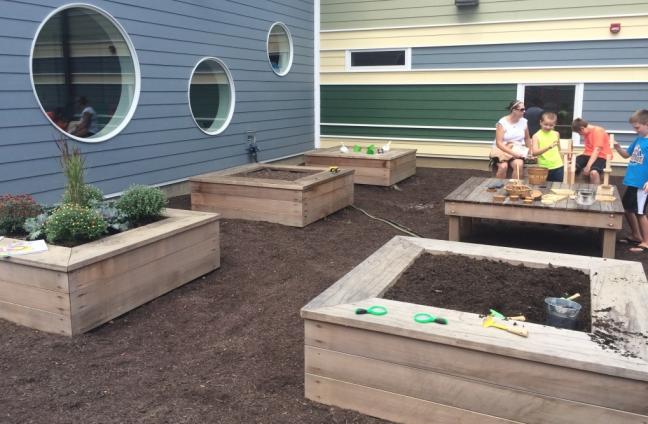 As we move into the future, we are realizing that we need people skilled at taking information from diverse sources and contexts and putting it together in innovative ways to address questions and challenges that are unique and emergent. The habits and mindset that allow an individual to work and think in this way start developing at the earliest stages of life, and the best environment in which to foster that development is one rich in exposure to nature.
What do you believe are the most important components, aspects, or ideas around outdoor learning design?
Beyond the basic responsibilities of safety, the unique details of all outdoor learning environments grow out of a few ideas:
Intentional Affordance: all designed environments should allow for and encourage multiple ways of use, so children can direct their own learning.
Secure Freedom: we should be secure within our surroundings in order to freely reveal ourselves, learn, be creative and empathetic.
Living Laboratories: the outdoor learning environments themselves grow and change, and tell stories of moments, weeks, seasons, and years.
Holistic Learning: we need to support connection and collaboration that is active, passive, investigative, and imaginative. These are not exclusive to outdoor learning, but seem to come alive more readily when nature is the educational delivery model.
What tips can you give to our members who are starting to plan their outdoor spaces?
This is a big question, but the answer is found within your question: PLAN. Keeping in mind the previously mentioned aspects of outdoor learning design, a few other things to remember are to invite and include others into your planning process (such as professionals, community members, children, families, businesses, and others), highlight the environmental uniqueness of your site, articulate your educational philosophy/pedagogy, and know local licensure law and regulations. Pull all of these elements together into a plan for an extraordinary learning environment!