Member Spotlight
Vogel Alcove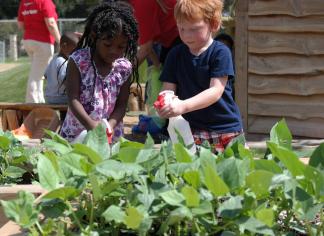 At
Vogel Alcove
, a child's education begins in our own backyard.
Vogel Alcove is the only comprehensive early childhood education program in the city of Dallas whose primary focus is to provide free childcare and case management for children and their families referred by 19 local emergency shelters, domestic violence shelters, housing programs and organizations that serve homeless families.
As a trauma-informed care center, we recognize that the children we serve experience stress resulting from having witnessed violence, concern over adequate resources, and/or housing instability.  Many of our children will never have their own backyard, though through regular interaction and play in natural settings, we provide them the opportunity to reap the social, emotional, physical, health, and cognitive benefits that come from connecting to the outdoors and nature.  
Learning and Growing at the Alcove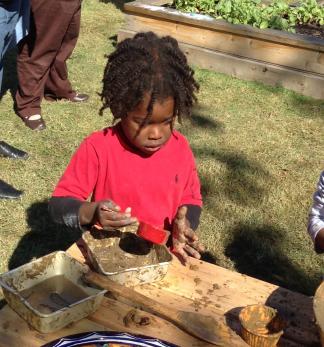 The Backyard at Vogel Alcove is a natural playground enhanced with garden areas that serve both therapeutic and traditional early childhood educational goals.  For up to 90 minutes a day, both volunteers and early childhood educators mentor and facilitate as the children explore art, construction, music, dramatic play, physical play, and sand and water play in the outdoor classroom.  
The mud kitchen has become a favorite preschool destination for mixing up "healthy" treats and washing dishes, "just like mom."  Art explorations routinely integrate rich sensory experiences such as painting with rosemary sprigs, weaving ribbons around tree roots, and combining natural elements in unique sculptures. 
Our Gardens
Key to the program are three garden areas, each with its own distinct therapeutic goal: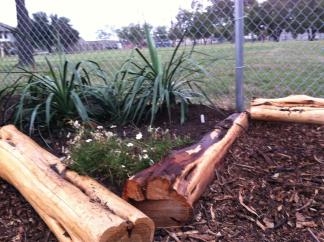 The Share and Care Vegetable Garden
features six raised beds that the children tend with fresh seasonal produce. Interaction focuses on taking turns, providing personal space, developing empathy and caregiving skills, and, in turn, caring for oneself with healthy, nutritious food.
The Look and Listen Sensory Garden features plants that stimulate and integrate the visual, auditory, tactile, olfactory, and oral senses.  Interaction focuses on increasing attention spans, noticing details, gentle touches, and deep breathing for stress reduction.
The Bloom and Grow Wildlife Garden provides a space to observe and learn from the cycles of nature.  Interaction focuses on resiliency, as children witness butterfly metamorphoses, and the dormancy and new growth of native and naturalized plants. 
Community support is integral to all aspects of our program, and we are truly grateful to all of the donors, volunteers, and organizations that work with us to sustain these opportunities. For more information, go to
www.vogelalcove.org
.