Preschool teachers are becoming increasingly aware of the benefits of nature, including development of healthy bodies, social-emotional competency, academic success, and more. However, for many preschools, the question isn't whether nature is important—the question is how traditional, urban preschools can access it. I have been grappling with this issue for the last nine years while directing
The Oaks Parent-Child Workshop
, a cooperative preschool founded over 70 years ago, and have formulated an approach that I believe can be useful for others. The approach is incremental, and takes time, but its impact can be transformative and lasting.
Remember this conversation from The Velveteen Rabbit (2007; pg. 4)?
"Real isn't how you are made," said the Skin Horse. "It's a thing that happens to you."

"Does it happen all at once, like being wound up," he asked, "or bit by bit?" 

"It doesn't happen all at once," said the Skin Horse. "You become. It takes a long time."
This article is about how—within the limits of our location, budget, and governance constraints—we increased our natureness, and supported children's learning with nature "inside, outside, and beyond." And, just as the Velveteen Rabbit's transformation took a long time, so did ours.
Inside, Outside
During my first five years at The Oaks, we made great strides in improving the curriculum and school environment, both inside and outside. We removed asphalt and replaced it with a bike path landscaped with tufty grasses, willow, animal tracks, and native grapes (Vitis californica). We planted edible fruit trees and installed raised beds seeded with edible greens and herbs, a source of food for our bunnies and children.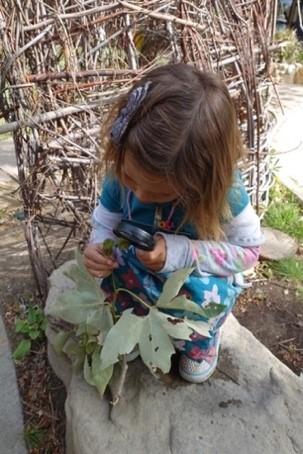 Within the classroom we set up a nature corner to display natural history artifacts and visiting insects. We subscribed to the Santa Barbara Natural History Museum's Nature Connection Membership, a program that allowed us to borrow museum-quality displays such as taxidermy mounts of animals, bird nests and eggs, animal skeletons, bones, and skins. These resources allowed us to expand upon children's emerging interests, seasonal changes, and our collective understanding of our coastal, chaparral, and woodland environments. We invested in additional field guides and added the topic of nature pedagogy to our weekly evening parent education classes. We collaborated with the local city to install more native plants and reduced our waste by joining the city's food scrap composting program. 
We also started Nature Notes using a nature journal made from an 11" X 14" artist's pad. It became a home for nature discoveries made both at school and at home, including teacher Laura's photograph of the great horned owls bathing in her backyard, Anton's family chanterelle mushroom hunt, Grandpa Steve's picture of ant lion sand traps, and Fin's family photo of a centipede and her eggs, to name a few. 
The Beyond
Though we had made exciting progress in our inside and outside environments, our program had not yet accessed nature connection beyond our school grounds. With this goal in mind, I requested parent board approval for an off-site nature-based program during the summer. Many of the details would need to be worked out including location, budget, and curriculum. But, with the board approval we could begin to plan for this pilot program in earnest. 
Selecting a Place and Space
After investigating several other options, we decided on Fairview Gardens, an urban farm about fifteen minutes' drive from our school. The facility has bathrooms, an obvious plus, and we would have the opportunity to work with Fairview Gardens interns who were well versed in environmental education. The farm was replete with many natural affordances—trees to climb, loose parts to repurpose, a chicken coop, a children's garden, sunflower teepees, food crops, and so much more. When it was hot, "Sister Mulberry," an ancient fruiting mulberry tree, provided an expansive shady canopy to retreat to. The farm also had tables for activities and pathways to explore. Environmental sustainability was a focus. Children watered the garden with water they washed their hands in and composted their lunch leftovers. We felt that the farm met all the guidelines NAAEE laid out for location. 
Implementing Nature-Based Education
Parents attended an initial planning session before the school year ended. Some parents later reported they hadn't known what to expect. Perhaps they had been harboring concerns about safety and questions about what the program would be like for their children. After the summer nature-based program ended, a few parents reflected on the experience, sharing that they noticed gains in confidence, curiosity, and "a sense of ease," in their children. One parent went on to say of her daughter, "Years later, it's still a favorite memory of hers."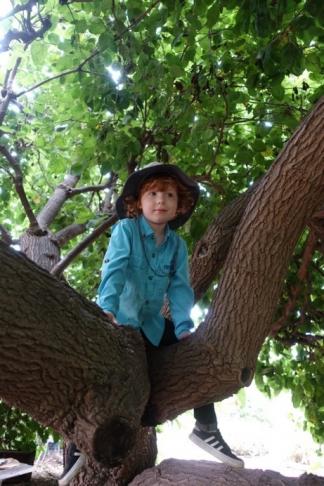 During our week at the farm, we found a balance between being prepared (teacher-directed thematic curriculum) and following children's emerging interests (child-directed curriculum). We found our sweet spot with pre-planned, developmentally appropriate activities that allowed us to have resources on hand when and if children wanted them (for example, watercolors and journals). We came to realize that children have a great capacity for self-directed engagement in a beautiful natural setting.
The summer of 2019 marked the fourth consecutive year we offered this program at the farm. At the end of each session, I ask the teaching staff what they noticed about teaching outdoors at the farm in contrast to teaching at school. Their responses at first astonished me, but they shouldn't have. They reported the following: 
Fewer conflicts
Simpler clean-up
Less need to entertain
Children were more engaged
Children were more hands-on
Children were better listeners
Children were more reflective
There were more appropriate risk-taking opportunities and children took full advantage of these opportunities
Children worked more cooperatively
It is exciting to note that our teachers' responses resonate with other research investigating the benefits of outdoor programs in early childhood, like the
PEER Associates
report,
Forest Days Case Studies
. 
We are very pleased with the ways that we have increased the natureness of our traditional parent cooperative preschool, inside, outside, and beyond. Our program continues to evolve and we are constantly experimenting with new ways to build nature into our work, over time and bit by bit.
About the Author: 
Sunny Crandell is the director and parent-educator at the Oaks Parent-Child Workshop, a program affiliated with the Santa Barbara City College, School of Extended Learning. She has been an adjunct faculty in the Antioch University Nature-Based Early Childhood Education Program and has presented at local and national conferences, including Natural Start Alliance's Nature-Based Early Learning Conference, In-Bloom in Santa Barbara: Promising Practices in Nature-based Early Childhood Education, and Children Learning with Nature Conferences in Santa Cruz. Sunny is a member of the local Leave No Child Inside Coalition.