Throughout the world, there are many different types of settings—like nature-based and forest preschools; forest, beach, and nature kindergartens; and outdoor nurseries—that provide children with immersive experiences in nature.  All of these settings share a connection in their work in what I call Nature Pedagogy. In this article, I will explore my definition of Nature Pedagogy, how it manifests in different parts of the world, and how it serves as a common thread in our work with children in nature-based settings.
Defining Nature Pedagogy
Nature Pedagogy is a way of working with children and creating settings for care and education that embraces nature. It includes the educational environments we create, the process of assessment and planning, and the learning journeys that we encourage children and families to take throughout childhood. Five years after I started using the term, I have refined the definition for Nature Pedagogy through the process of doctoral research. I now define Nature Pedagogy as "the art of being with nature, inside, outside, and beyond."
Connection, not Separation
By being in and with nature, nature-based settings have a connection and a similarity in their work. These similarities are around: the centrality of relationships both to the land and to each other as a community of learning; the respectful acknowledgement of the role of the natural world in all aspects of human development; and the view of the child as confident, capable, and curious.  Beyond these similarities, the models start to vary in the time spent outside, what the space they access looks like, the requirements for licensing by the regulatory bodies, and the need to document what children learn.
To make sense of this variety, and to create a connection between many models of nature-based immersion (rather than creating separation and division), I use the analogy of the mycelium. The mycelium is a meshwork of interconnected lines that feed not one but many fruiting bodies. Nature Pedagogy is that underground philosophy of how we work with children and it is manifested in many different models of nature-based practice.
The development of nature-based settings around the world is rapidly increasing. There are more than 120 programs in the Czech Republic, which is an area just a little larger than West Virginia. The definition of a Forest Kindergarten in the Czech Republic is a program that has no building. In Norway, the presence of Natur Barnehage programs is extensive. At Whistlebrae Nature Kindergarten, which was the first in Scotland, we created a model that pushed the boundaries with licensing and yet still maintained our philosophy.
Auchlone Nature Kindergarten
, also in Scotland, is based in a small cottage in the forest, has an outdoor landscape designed by children, and a large area beyond the fence to play in five days a week, 48 weeks a year.
I recognize that the need for identity is driving these models to subdivide into isolated silos as they all seek individuality. Nature Pedagogy, however, seeks to bring them back together. Nature Pedagogy is an underlying philosophy, and the models then emerge from that philosophy in different ways in response to climate, curriculum, and the community.
The art of truly being with nature is at the heart of the work we do. Not in it as a passive observer, or teaching about it, but rather being with it. Moving and responding to children's inquiries while placed in a natural landscape is the pedagogical dance, and we all have slightly different steps, just like a good Scottish Ceilidh. As nature pedagogues, we are responsive, subjective, and relationship-focused in the work we do with children and families.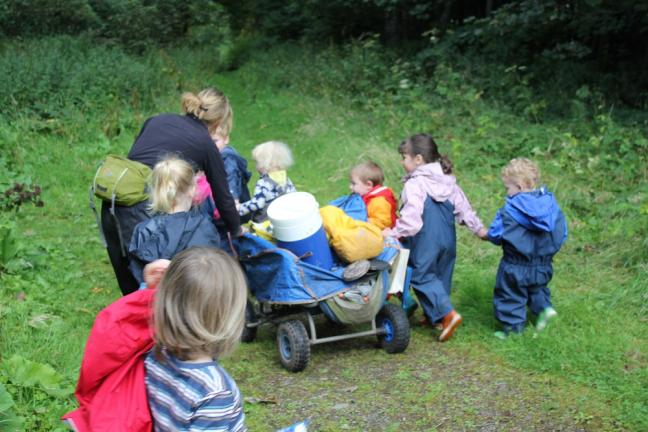 Planning and Documentation
The challenge for nature-based programs is how we make the complex nature of exploration and learning visible without compromising the values of what we do with children. Our work at Auchlone Nature Kindergarten starts with observation of the child's fascination with the natural world or an adult provocation. In line with the
United Nations Convention on the Rights of the Child
and their right to be heard, we consult children. The children's learning journey may take a week or several months and it is recorded in our documentation approach called Floorbooks (Warden 1996). This real-world learning works very well with nature-based settings as it holds onto the child-led aspects of our work while making the learning more visible to families and regulatory agencies. The participatory planning is recorded at the back of the Floorbook where we can use standard curriculum outcomes to monitor breadth and balance.
When Nature Pedagogy is fully manifested, it is seen in the everyday choices the team makes. It should be the healthy food children eat and what they drink, the biophilic design of the interiors, and the sustainable use of power, transport, litter, and resources. Given the location and culture of some models of nature–based immersion, it is sometimes not possible to completely embed Nature Pedagogy. In these settings, nature-based experiences may be reduced to parts of the day, are sometimes over-structured to teach about nature, or the whole space might not embed sustainability. The conversations about Nature Pedagogy and its effect on practice are, however, common to all of these settings.  
Creating a Global Meshwork
To keep these conversations real and relevant, we established an association to provide support and inspiration to this global movement. The
International Association of Nature Pedagogy
emerged from my UK-based charity called Living Classrooms that works to develop the capacity of marginalized communities by working with the natural world. As a community interest company, it has a focus on creating a global meshwork that seeks to raise the profile of
Nature Pedagogy
as a philosophy of practice, increase the professional status of nature pedagogues, and link nature-based settings around the world. We work in many partnerships and are delighted to be working with Natural Start Alliance to run the
2018 World of Wonder Conference
in Chicago. 
Claire Warden is an international educational consultant working across Australia, Canada, the United States, and Europe. She is the founder of the International Association of Nature Pedagogy and MD Mindstretchers, Ltd.
Delve deeper into the theory behind nature pedagogy and gain the practical skills to begin to intertwine nature with all forms of learning at Claire Warden's upcoming 
Journeys Into Nature
 course at Ferntop Nature Preschool in Fairview, TN (July 23-26). 
References for Further Reading
Ingold. T. 2011. Being alive. Essays on movement, knowledge and description. Routledge: Oxon.
Warden. C. 1996. Talking and thinking Floorbooks. Assessment, documentation and planning with children. Mindstretchers: UK.
Warden. C. 2011. Fascination of water - Learning with puddles. Mindstretchers: UK
Warden. C. 2012. Nature Kindergartens and Forest Schools. Mindstretchers: UK
Warden. C. 2015. Learning with nature, embedding outdoor practice. Sage: UK.
Warden. C. In press. Nature Pedagogy - The art of being with nature inside, outside and beyond. PhD thesis. Liverpool Hope University: UK.