The movement to combine environmental education with early childhood education has been on the rise, coinciding with concerns that children do not have the same opportunities to experience nature as previous generations did. The significant increase in the number of nature preschool and forest kindergarten programs operating in the United States is one indicator of the growth of this movement. But what happens when you want to offer early childhood nature programming but don't have the space, personnel, logistical, or monetary support to run a full-scale preschool? One answer may lie in short-form programming such as nature playdates.
Recently, I conceptualized and created a weekly nature-focused one-hour-long playdate for the Pinelands Institute for Natural & Environmental Studies (PINES) in New Jersey. Here are some lessons I learned and steps you can take to develop a similar program at your own nature or environmental center!
 
Designing Your Playdate
There are quite a few considerations to be aware of when designing a nature playdate. Many logistical decisions behind program design ultimately hinge on what resources are available within your facility. Following
established early childhood environmental education guidelines
, program ideas should be filtered through your individual context to build a fun program that is developmentally appropriate for the age groups being served. I found that many institutional goals and audience needs can be identified by answering the questions of Which, What, When, Where, Who, and How:
Which age group(s) will your playdate focus on? Will it be a single, mixed-age group program, or multiple, single-aged group programs? Will it be a drop-off or caretaker-child program? Additionally, how many participants can you safely and effectively accommodate? 

A wider range of ages will lead to opportunities for play between older and younger participants such as siblings. A narrower range will allow you to pursue more specific developmental goals, such as fostering the visual and tactile senses in the early years or developing vocabulary and questioning skills in the preschool years. Settling on an age group will also help you to answer the next question:


 
What format will your playdate follow? Will it be structured, following a schedule with designated times for specific activities, or will it be freeform, open for participants to freely explore natural materials and environments in a controlled setting? Perhaps a mixture of structured activities and free time for exploration? What sort of activities will the playdate include? Science? Storytelling? Art? Active play? 

Many activities traditionally done with young children indoors can be done outdoors, with both natural and manufactured materials. At PINES, playdates feature monthly themes (birds, frogs, trees, etc.) supported by topical discussion, hands-on activities, and related songs, stories, and manipulative materials. Your choices are almost endless but the activities and format you select should provide children with plenty of opportunities for joyful interactions with nature.


 
When and how often will the playdate run? Once a week? Biweekly? Multiple times a week? Will it run for an hour, like many toddler-focused programs, or for a longer period of time?  

Try to pick a time for your playdate that falls between most families' standard schedules, such as meals and nap times; often, mid-morning and mid-afternoon are best. If your aim is to serve a specific population, try to conduct an informal survey of a few parents or talk with other professionals who serve that same population to make a more informed decision about the schedule that best fits your target audience's needs.


 
Where will the playdate be held? Do you have a space on your grounds that is open enough for exploration yet defined enough for a group of young children? Is the space compatible with your program's format – does it have loose natural parts for creative play, for example, or a shady tree for storytelling? How will you enclose the space, if needed? And are you able to identify and remove structural and environmental elements that might be hazardous to young children? A stroller-accessible location close to the parking area and/or a main building often works best. An ideal location is also easy to bring supplies to, provides enough open space for the children to get up and move, but is defined enough to ensure their safety. Using the same space every time builds familiarity and comfort in participants.


 
Who will supervise and run the playdate? Do they have the proper training to facilitate play and learning? 

Understanding your staff's abilities and comfort levels will be crucial for answering these questions. The roles of the educator in a nature playdate is to maximize children's opportunities for play and exploration, model care and respect for nature, respond to children's interests and fears about the natural world, and intervene when children's safety is at risk. You can look for workshops, conferences, or professional association meetings near you that can help to build your staff's capacity to work with young children. 


 
How much will you charge for your playdates? Will the program require pre-registration or can participants simply drop-in? Is there a discount for paying up-front for multiple playdates? How will you handle inclement weather – will you cancel the program and issue refunds or will you move it indoors? 

Requiring pre-registration, even with a nominal fee, allows you to know more exactly how many participants, and what ages, to expect at your program. In my experience, families attend more consistently when they pre-register, especially when they pay a discounted fee for multiple playdates. Providing incentives to participants to return can also help to form friendships and a sense of community in the group.
Spreading the Word about Your Playdate
In our modern world of seemingly endless choices, effective marketing can be a deciding factor on whether a program will be successful or not. One effective technique is finding a niche community who may not be aware of the opportunities your center provides and working with them to tailor a playdate to their needs. Likewise, social media, local family resource centers, and online "mommy groups" are fantastic resources that can help you reach your desired audience. Harness the power of modern "share culture" with attractive images and bulleted "to-the-point" information. And never underestimate the power of word-of-mouth – one parent who loves your program can influence many others to join. With proper marketing, a playdate program can fill up in just a couple weeks!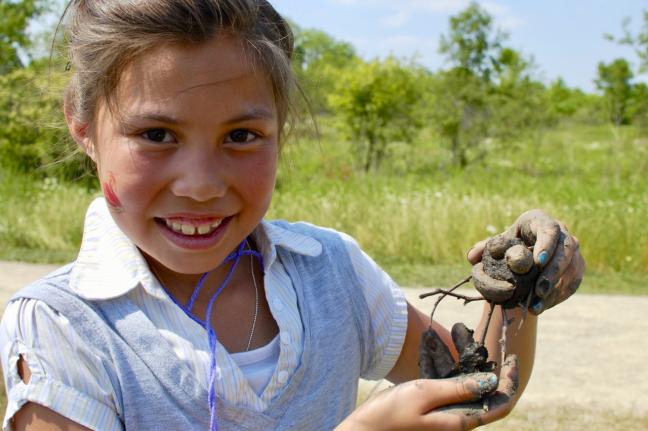 Playtime! 
George Forman, professor emeritus of education at University of Massachusetts, Amherst & past president of Jean Piaget Society, once said "Children do not need direct instruction to play. But, they need the partnership of another mind, older and equally curious, with which to wonder out loud". At the end of the day, this should be the goal of a nature playdate program, and indeed, any play opportunity. With ample time and thorough planning, any organization can create short-form nature play programming. In addition to requiring relatively few resources, nature playdates can be more accessible to families who enjoy being out in nature but don't exactly know how to meaningfully introduce their children to the natural world. As educators, we have the opportunity to be a support structure and help parents build that bridge between the outdoors and their children. 
About The Author
Jessica Grill is the program coordinator and lead educator at the
Pinelands Institute for Natural and Environmental Studies
(PINES), and a graduate student in Miami University's Project Dragonfly. She has worked in the environmental education and early childcare fields for over a decade.
For Further Reading
Ensel Bailie, P. "From the one-hour field trip to a nature preschool: Partnering with environmental organizations." Young Children 65, no. 4 (2010): 76-82.
Forman, G.E. "When 2-Year-Olds and 3-Year-Olds Think Like Scientists." Early Childhood Research & Practice 12.2 (2010): n2.
Larimore, R. "Defining Nature-Based Preschools." International Journal of Early Childhood Environmental Education 4, no. 1 (2016): 32-36.
North American Association for Environmental Education. Guidelines for excellence: Early childhood environmental education programs. NAAEE, 2016.
Sobel, D. Childhood and nature: Design principles for educators. Stenhouse Publishers, 2008.
Wilson, R. Nature and young children: Encouraging creative play and learning in natural environments, 3rd ed. Routledge, 2018.