"Will my child be ready for Kindergarten?" As nature-based early childhood programs spring up across the country, this is a common query from interested families. While parents want to offer their children a chance to play outside, some also wonder if searching for bugs and traipsing through puddles will adequately prepare their child for the next stages of formal education.
What is usually meant by "Will my child be ready for Kindergarten?" refers to academic expectations, particularly reading and writing. In our outdoor classroom at Fiddleheads Forest School in Seattle, "walls" are interlacing cedar boughs rather than text-filled bulletin boards, and most winter days are too damp for paper and pencils. It might seem like a challenging environment in which to provide early literacy instruction, but our outdoor setting is also a source of unique opportunity.  
What does an outdoor environment offer for early literacy development? 
Dialogue
A core practice for language and literacy development is one that pre-dates any sort of ABCs worksheet: rich, reciprocal dialogue. Early learners construct ideas about how the world works through exploration and social interaction. The act of listening is a key element of supporting these young investigator-conversationalists. By listening and responding, teachers can extend children's comments into more complex linguistic and cognitive territory.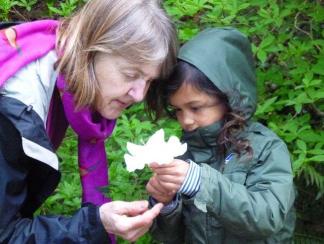 The outdoor classroom is a rich and storied environment, full of possibilities for teachers and students to encounter the world together. Dialogue arises from this activity of joint attention.  A slug gliding across a decomposing log, a Steller's jay's jarring call overhead, a new bud opening up. Each phenomenon presents the opportunity to use language as a tool for observation and inquiry. What do you notice? What do you think is happening here? How can we find out more?    
Socio-Dramatic Play
"Oh! I saw a monster! I saw a big monster. Let's get food. We have to get - put - food. Because I saw a big monster that was coming and eating all of the food for the baby monsters." (Gathering seeds, throwing handfuls onto a path.) "Escape from the dungeon!" "Phew. I escaped. I escaped, because I am not afraid of monsters. I thought it was a monster, but I was super-duper-duper brave." 
The play-worlds created by children have an important role in language and literacy development. These are worlds of stories, conflict, and experimentation. They are words of negotiation, as narratives join and come to life. Renowned teacher and writer Vivian Gussin Paley (1986) describes how young children "know intuitively that once they begin to pretend, they become accountable to the community of pretenders." In this community, as in any community, communication is paramount. 
During pretend play, children talk more, speak in lengthier utterances, and use more complex language (e.g. future tense, interrogative clauses, conditional verbs, descriptive adjectives, mental state verbs) than when they are engaged in other activities. (The Power of Play, Minnesota Children's Museum)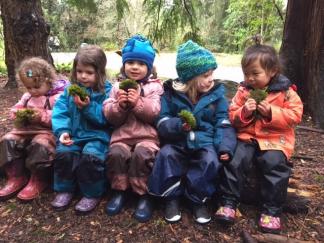 An outdoor classroom is a wondrous, textured, dynamic habitat for imaginative play. With towering trees, foliage in which to feel hidden, unexpected visitors such as squirrels and owls, and cones falling to the ground, the ever-changing wild world provides an on-going stream of information with which the imagination can engage. And because many of the physical materials or "props" are natural items whose function in play is not pre-determined, children are required to work together to attribute meaning to these different items and integrate them into the story.   
Emergent Reading and Writing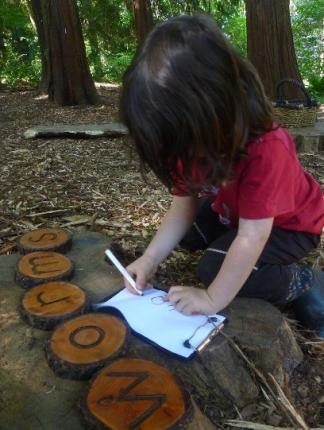 Many outdoor programs use field guides and other books to complement hands-on experience. A field guide, especially one with a layout that is accessible to early learners, is a wonderful supplement on exploratory walks. Using it encourages children to notice patterns and distinguish visual details, while building interest in printed material.  
Another staple practice among many outdoor schools is that of journaling. Journals are books (ideally waterproof!) in which students can record their observations in pictures and words. Sometimes, the teacher may write down what the child dictates; or the child may choose to do the writing him or herself. These journals provide a record of specific things that captured the children's interest, as well as documentation of students' drawing and writing capacity over the course of the year.
Phonological Awareness
Activities that foster phonological awareness can be woven into the outdoor classroom experience. New vocabulary is introduced contextually, as teachers and students seek language that reflects the phenomena they encounter. Songs, rhymes, and games can be adapted to involve oral language, movement, and interaction with the environment itself. This is especially valuable during the winter months when it may be important to keep warm by being physically active.
Laying the Foundation for Literacy
Early literacy involves a suite of interrelated capacities, including oral language comprehension, print knowledge and print motivation, and phonological awareness. According to NAEYC (2003), 
Children's early reading and writing learning ... is embedded in a larger developing system of oral communication. Early literacy is an emerging set of relationships between reading and writing. These relationships are situated in a broader communication network of speaking and listening, whose components work together to help the learner negotiate the world and make sense of experience.
(Kathleen A. Roskos, James F. Christie, and Donald Richgels, p. 2)
It can be easy as a teacher to feel a pressure to "produce," to send children home with an elaborate craft or scrawled-upon paper that shows "what we did" that day at school. Of course, such activities, skillfully designed, have their place in a well-rounded preschool curriculum. I remind myself each day, however, that it is the quality of my presence—my attention and engagement in interaction—that matters most. 
That quality of presence supports the type of dialogue and play that fosters language development. It is also the creative fuel necessary for weaving sound, reading, and writing into experience in meaningful ways. An outdoor classroom can provide a high degree of connectivity between all of these modes of learning, laying the foundation for literacy by treating it as an integrated, relevant, joyful part of students' development.    
A Community of Practitioners 
In the course of writing this article, I reached out to other programs in the newly-formed Washington Nature Preschool Association and invited educators to share their experience with the opportunities and challenges of early literacy instruction out-of-doors. While our programs vary widely, I found that we share many of the same questions regarding how to make the most of this unique type of learning environment. I'd like to thank Stephanie Day at Roots Forest School in McCall, Idaho, Sarah Salazar-Tipton at Olympic Nature Experience, and Janet Killmer at Tacoma Outdoor Ability Development School, for sharing their perspectives on early literacy in their programs. If you'd like to join our conversation on this subject, please feel free to get in touch.
About the Author
Joanna Wright is a lead teacher with Fiddleheads Forest School, a program of the University of Washington Botanic Gardens in Seattle, WA. Before coming to Fiddleheads, she trained as a naturalist educator at Alderleaf Wilderness College where she specialized in wildlife tracking, and holds a Level III Track and Sign Certification. She is particularly interested in the significance of direct ecological experience for health, development and learning.