As a curious person by nature, I have been a hands-on learner for as long as I can remember. In my work life—from my first job on a farm to becoming an environmental educator—I have always had a passion for the outdoors and the lessons it provides. I taught at nature centers in three different states over the course of ten years. The work I was doing—working with classroom teachers to get their students outdoors, writing curriculum to take into public schools, teaching summer camp, etc.—was rewarding, but I began to wonder how my work could be different if I could work with the same group of students over the course of a school year.
Although I didn't know it yet, I had started my journey to opening a nature-based school. It's a journey that, in many ways, I started when I was very young, but it would take several more years to make it a reality.
Finding My Motivation
It was 2011, my daughter was one month shy of her second birthday and I was very pregnant with my second child. I was searching to find a preschool for my daughter that would challenge her physically, while at the same time offer her a healthy, supportive, social atmosphere. Everything I came across was either very expensive or required a parent to tag along. My daughter was ready to have something to call her own. I found nothing that made sense for our family.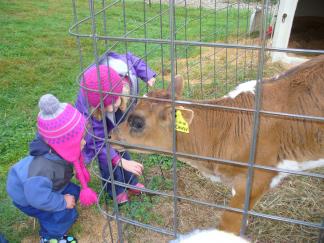 Over the course of the next year, I visited every preschool and playgroup in our area. My son was now a year old and although we finally settled on a preschool for my daughter, it lacked the outdoor component I was really hoping for.
I began replaying a daydream of owning a small farm and using the entire property as a classroom for children of all ages. It's a dream I have had, some details varying along the way, since college. However, unlike my college days, now I had the education (a B.A. and a M.Ed. in early childhood and elementary education), the experience, the teaching certification, and two children of my own who could benefit from my dream becoming a reality. Establishing a nature-based outdoor school started to seem more like a real possibility than a dream.
Planting a Seed
I started by making phone calls to existing nature-based preschool programs any chance I could get. I asked more questions than I could keep track of: How much do you charge? How did your program get financed in the beginning? What is your child-to-staff ratio? Are you state licensed? How did you go through the licensing process? Is your program outdoors all day and, if not, what percentage of the day are you outdoors? How do you handle harsh weather conditions with your students? How do you assess your students? Do you serve children with special learning needs? How do you market your program?
I read Establishing a Nature-Based Preschool by Rachel Larimore and then phoned her to ask questions regarding her success with the Chippewa Nature Center Nature Preschool in Michigan.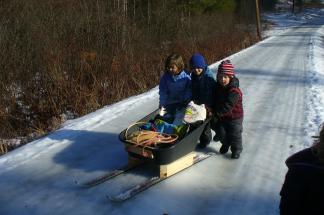 I attended a workshop where Ken Finch, founder of Green Hearts Institute for Nature in Childhood, taught the basics of getting a nature-based preschool up and running. I met with former colleagues and professors to pick their brains and hear their suggestions. I visited nature-based programs in Maine, New Hampshire, Vermont, and Massachusetts.
To get the ball rolling and to get my feet wet, I started a class out of my home that I called "Nature Fridays" for a small group of friends' children. I held the weekly classes for several months, and as I gained confidence, I began to consider my options for a location for a full-fledged preschool. Unfortunately, I did not own a farm of my own, but Stonewall Farm was just down the road from where we lived. I had often thought it would be the perfect location for a school: It is within the city limits; has farm animals (goats, ducks, chickens, cows, horses, sheep, alpaca, honey bees, rabbits); is on 120 acres of land that includes hiking trails, a pond, and creeks; operates a CSA program (community-supported agriculture); and has a beautiful building. What more could a teacher want?
I decided it was time to approach the executive director of Stonewall Farm to see if this type of venture would even be a consideration. We decided to take a first step together. Stonewall Farm agreed to let me move my "Nature Fridays" class to the farm to pilot a spring session there. More legwork was needed to take the partnership farther.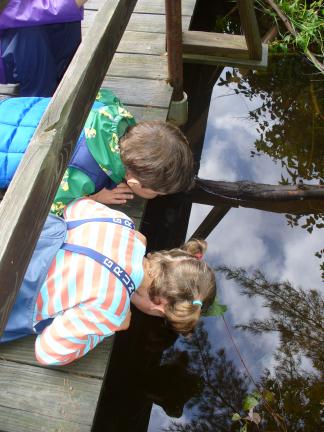 I connected with a business advisor through the New Hampshire Small Business Development Center to learn how to write a business plan and get advice on starting a small business. I attended a conference on nature-based early childhood education at Antioch University New England and started developing a network of like-minded professionals. I also discovered that even with my M.Ed., I was not qualified to serve as a center director, and needed to take a course in Child Care Administration. The state granted me a waiver for 12 months so that I could take the course during the first year of the school's operation.
After many months of hard work, phone calls, meetings, paperwork, and loads of research, I finally got the go-ahead from Stonewall Farm to pilot a preschool for the 2013-2014 school year. Now I needed a name, a child care license, and one other thing ... students! I settled on the name Wild Roots Nature School at Stonewall Farm and scheduled the necessary inspections, including zoning, fire code/life safety, and health.
Finally, I submitted the child care application to the state, and while I waited to hear back, I developed a parent handbook, enrollment paperwork, and marketing materials. In the state of New Hampshire, you are not allowed to advertise for a child care program before you have been issued a license. Summer was well under way, July was ending and, just when I was about to throw in the towel for the fast-approaching school year, the child care license arrived! Now, I just needed students.
Taking Root
September 4th, 2013 was our first day of class at Wild Roots Nature School and I had exactly three students, one of whom was my daughter. I was uncertain if or how things would evolve, but two weeks later there were five children in my class, and by January, Wild Roots enrollment had grown to ten!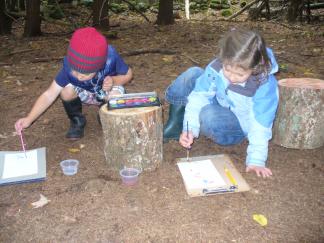 Word of mouth and having a presence in the community (at the farmers' market, open houses, and big community events) is helping this new program gain attention. Some families enrolled at Wild Roots because they are specifically looking for more outdoor time for their child. Others want the low staff-to-student ratio (1:6). Some families have found that traditional school does not work for their child. And some families discovered us through a friend and once they arrived at Stonewall Farm were sold by the outdoor surroundings alone.
However they got here, this school year I watched a small group of young children gain independence, self-confidence, strength, determination, social skills, problem-solving skills, endurance, and friendship. In the fall we collected, raked, and painted leaves; we measured, weighed, and carved pumpkins; we harvested carrots, beans, and corn and turned them into snacks. In the winter we explored the weight and density of snow, ice, and water; we went snowshoeing, sledding, and boot-skating; we identified animal tracks, made otter slides, and discovered ways to stay warm even on the coldest days. In the spring we tapped a maple tree, collected sap, watched it boil down to syrup, and made pancakes; we explored the creeks, wetlands, and ponds; we recognized patterns in nature; and we shared in the responsibility of watering, feeding, and caring for farm animals.
Blossoming
We have revised the child care license for the 2014-2015 school year to increase our capacity: We are adding a toddler class and hiring two new teachers. My vision is for our small school to continue growing, adding one age group each school year. I do not know where we will be this time next year—we are truly on a journey.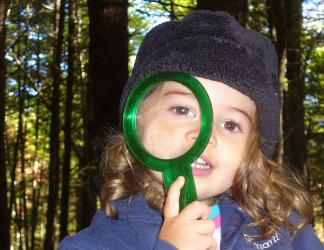 As I reflect on the successes of the past year and a half, I find it hard to believe all that has transpired to make Wild Roots Nature School a reality. And yet, that is what it is: a reality that grew from a small seed of desire. I often think of the quote, "Whatever you can do, or dream you can, begin it. Boldness has genius, power, and magic in it. Begin it now." We often wait to do things until circumstances are ideal, but situations are rarely exactly right. Many times over the past year I have heard people comment that Wild Roots is such a great idea and they too considered starting something similar at Stonewall Farm. Just begin!
About the Author
Liza Lowe is the founder, director and lead teacher of Wild Roots Nature School at Stonewall Farm in Keene, NH. You can email her at [email protected], and you can follow Wild Roots on Facebook.