In 1915, on the northern outskirts of Chicago, the Chicago Municipal Tuberculosis Sanitarium opened its doors, providing medical care and housing for people afflicted with tuberculosis. The site included cottages and natural areas that the planners believed would restore the patients' health, provide entertainment, and contain the disease away from the city. By the 1970s, the sanitarium was no longer needed, and the site was taken over by the Chicago Park District. It's now home to the North Park Village Nature Center, where we continue to use the site to restore and rejuvenate Chicagoans.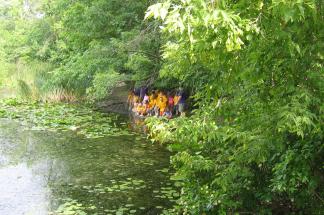 As the only nature preserve within Chicago, we make 46 acres of forest, wetland, prairie, and savannah available to our city every day. With guided walks, seasonal festivals, or casual conversations, we give our urban audience a dose of nature whenever they need it. We give our visitors the chance to see the wilderness that Chicago once was, to forget for an afternoon that we live in a huge city, and to connect with our history. It is a place to be serenaded by toads, see a deer, or smell the wild onion that gives Chicago its name—the name Chicago comes from the Potawatomi word for "land of the stinking onion." We are the place where city kids get off the bus afraid that nature is poised to pounce on them, and then leave, begrudgingly, feeling happy and fear-free.
In fact, it was kids on field trips that first got us thinking about new ways to use the center. On field trips, the kids were always required to stay on the paths, except when we got to a dead box elder tree nicknamed "Old Groovy," where the kids were allowed to break the rules and explore freely. As the tree decomposed, it became a jungle gym, invertebrate ark, pirate ship, space shuttle, and more. The students proved to us they were poised to pounce upon nature, so we started thinking about ways we could help them. 
Our First Experiment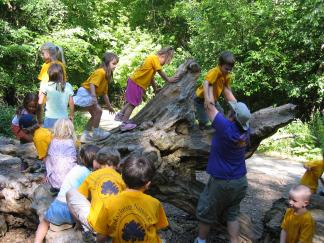 The nature center manages a nearby 12-acre area that we called the Nature Study Area. Before we took over responsibility for it, the site had largely become a graveyard of construction debris. Ecologically, it's not very rich or diverse, so it seemed like the perfect place to experiment, to let kids pounce and play.
One of our first experiments was with a summer camp group. At the time, the television show "Survivorman" was popular, so we took our twenty young campers off into the Nature Study Area to make survival huts. We drew faces on the backs of our hands and planned to make scale-model huts for our "Survivorhand." A cottonwood tree had come down in a storm that week and it provided ample leaf and stick material without harming a living tree. The campers humored us for ten minutes making small huts before they began making full-size shelters. What was planned to be a half-hour activity turned into nearly two hours and incredible structures of sticks, stones, and less-natural debris. Campers begged to be left there overnight in their shelters assuring us their "parents wouldn't care."
Clearly, this place fed something the children were starving for. So, as part of the Chicago Wilderness Early Childhood Task Force, we organized a larger experiment. We invited our fellow naturalists and educators to a workshop on pure unstructured play, or "how to not teach." We rolled out wheelbarrows of tarps, buckets, PVC pipe, burlap, and other materials and invited our peers to play for an hour, undirected. The play roamed all over the place, from a traditional playground of slides and swings and into the Nature Study Area. After an hour, these grownups refused to stop playing. Two participants, Teresa Weed and another educator, role played as two witches who shared one eye, a chunk of melted glass they found. Teresa's magic spell would not end there or then, we would find out. 
Walking Stick Woods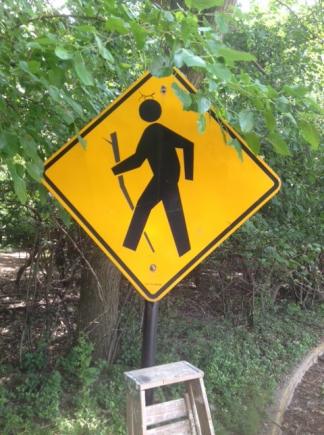 Teresa began volunteering with us to help us define the Nature Study Area. First, we needed to think of a better name. We all agreed that we wanted to keep signage to a minimum, so we simply altered a pedestrian crossing sign to include a walking stick, and it became the welcome to Walking Stick Woods. We wanted a whimsical, winking welcome those who read and those who don't that this is someplace special.  
Another goal was to support the ways kids chose to play without defining or limiting their play. So we went to the experts: the kids. At a Maple Syrup Festival, we collected a focus group by leading a wheelbarrow parade through the crowd, inviting all to hop in the wheelbarrow and join us to play in the woods. Then we simply stood back and observed.
It turned out that the only thing the kids needed from us was permission. They dug, made stick shelters, and created worm zoos. Two sisters made a tire swing from an illegally dumped tire. Watching them find a good tree, shimmy up, and tie the tire was equal parts pure scientific process and pure fun. You can only imagine their thrill as they tested out their swing for the first time, having done it all themselves. On their way out they pointed to more garbage in a dumpster and asked their parents, "Can we come back next week and make a toilet swing?"
We worked with Boy Scouts to use the parts already there to make tree-houses, stump stools, and a large brick checkerboard. We cut up ash logs to make tree cookies of all diameters. With a budget of sticks, kids made the play space come together. Groups from preschoolers to middle schoolers to student teachers came to explore and play, and the land disappointed no one.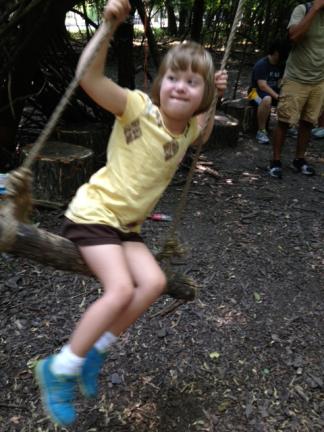 Over the last two summers, Walking Stick Woods has been used by a camp for differently abled campers whose aides told us the site was its own therapy. From rocking in a tarp hammock to communing with worms, all the campers found their peace. 
There were naysayers, those who promised us that this space, accessible to the public all day, would become abused by teens and midnight mischief makers. We did see evidence of its use by others, but it was positive and supportive. For example, two days after scouts built the Hackberry House, visitors left a tin tea set behind for all to share. We still haven't seen real misuse of the site.
Forest Play School
After its initial success, Teresa Weed returned with a new idea about how we could use Walking Stick Woods. To earn her master's degree, she wanted to start a Forest School—a school that meets in the forest with no building, common in Europe and only just now catching on here in the United States. We had heard
Claire Warden
 speak and were very inspired by her work at a forest school in Scotland, so we agreed to test the idea in Walking Stick Woods. Teresa's first round of students were aged three to six and met every Tuesday between March and May from nine until one in the afternoon. During the first session it snowed six inches. "You want an outdoor experience?," Walking Stick Woods seemed to ask. "Here you go."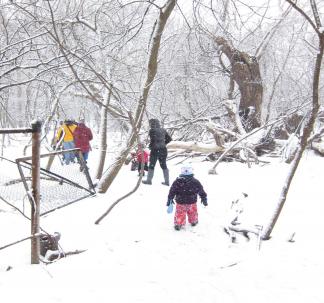 And there we went. The second year Teresa's program was so popular she offered it two days a week. Her Forest Play School now runs Monday through Friday, September through June with no indoor facility. Every session involves cooking and stories and whatever magic Teresa continues to weave out in the woods, whatever new treasure the space reveals to pounce upon.
Walking Stick Woods is open to the public from sunrise to sunset and is drawing in its own visitors in addition to Teresa's school. From woods to a TB sanitarium and back again, Walking Stick Woods continues to heal, to let kids explore and get the outdoor play, the unstructured fun we all need to become whole humans.
About the Author
Sean Shaffer has been an Education Naturalist at Chicago Park District's North Park Village Nature Center for twelve years and an informal educator in Chicago for twenty two, having worked at Kohl Children's Museum, the Chicago Academy of Sciences, and The John G. Shedd Aquarium. He is on the Chicago Wilderness Leave no Child Inside committee and the Northern Illinois Nature-based Preschool Association board. He has also helped design and build playspaces and toys made of buckthorn, an invasive hedge.