Resources
Awakening Creativity: Dandelion School Blossoms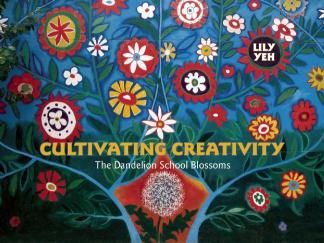 Resource Category:
Books
Awakening Creativity: Dandelion School Blossoms
By Lily Yeh
$34.95 Hardcover with dustjacket
Date: 06/01/2011
ISBN: 9780981559377
Lily Yeh is an acclaimed artist who has worked with students, community leaders, and teachers in Canada, China, Ecuador, Ghana, Kenya, Syria, Italy and in cities and neighborhoods across the United States. Yeh is considered one of America's most innovative social pioneers.
In Awakening Creativity, Yeh facilitates the process for students in creating The Dandelion School in Beijing China that serves the children of poor migrant workers coming from 24 provinces. Yeh worked with hundreds of students, teachers, volunteers and workers to transform the school's main campus with mural painting, mosaics, and environmental sculpture. Students were involved in every aspect of the art-making, which has become central to the school's curriculum and well-being.
This is a gorgeous, inspiring book, full of pictures and art from the project, as well as beautiful poems, stories, drawings and paintings by children from the school. Lily Yeh nods to her art ancestors throughout the book, noting how she gained much of her style from admiring traditional Chinese folk art that is full of color and lively design.

Yeh shows how everybody is a natural artist and how the patterns and spirit of art is all around us. She also realizes our profound relationship with our environments and how greatly our surroundings influence us. Seeing the Dandelion School transformed from a drab place to one of colorful, positive images and story heightened the imaginations and joy of the students, and also their pride in their surroundings and concern for the environment.
Lily Yeh founded Barefoot Artists, a volunteer organization that uses the power of art to revitalize impoverished communities. Yeh is also the co-founder and former director of The Village of Arts and Humanities that has brought to life over 200 abandoned lots in the most distressed districts of North Philadelphia.
Tags