Resources
The Great Outdoors: Advocating for Natural Spaces for Young Children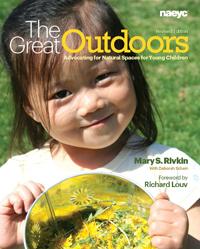 Resource Category:
Books
New delights and opportunities for learning await each time children venture outdoors. This updated and expanded edition of
The Great Outdoors
will inspire teachers to make it possible for children to spend more time outdoors, have safe environments, and be free to learn through exploration. This book: 
    - Reviews why outdoor play matters for children, especially when it involves nature
    - Explores the historical and contemporary inspirations and foundation for nature education
    - Discusses ways to keep children safe outdoors, including minimizing sun exposure and other dangers
    - Highlights the importance of nature experiences for children's spiritual development
    - Explores the necessity and challenges of creating child-friendly cities and environments
Each chapter ends with action items to improve children's access to safe, clean, and interesting places in your community and is packed with resource ideas for further exploration. The Great Outdoors will enable you take up the challenge to advocate for enticing outdoor spaces for children.