Our spring workshops have been cancelled, but you can still access the free introductory webinars on early childhood STEM, outdoor spaces for exploration and discovery, and documenting and assessing outdoor learning.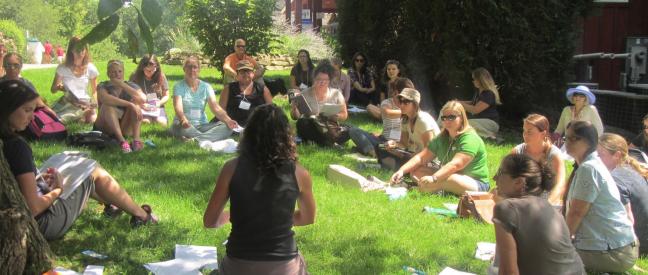 ---
Early Childhood STEM: Using Nature to Drive Learning
Nature is the perfect vehicle for engaging young learners in science, technology, engineering, and mathematics (STEM). Whether the outdoor space is structured or wild, nature provides a boundless source of dynamic materials with an infinite variety of applications encouraging exploration, problem-solving, and discovery. Over the course of this workshop, attendees will look at STEM learning in the context of early childhood development, gain a comprehensive understanding of the STEM framework (including its relationship to STEAM, which integrates the arts into the curriculum), obtain hands-on experience with a variety of curricula, and start developing a portfolio of ideas.
Trainers: Kit Harrington, Director, Fiddleheads Forest School in Seattle, Washington
A recording of the introductory webinar is available for free on the North American Association for Environmental Education YouTube page.
Creating Outdoor Spaces That Encourage Exploration and Discovery
Outdoor play spaces are a critical component of any early childhood education program. In this interactive workshop, we'll explore the benefits of natural playgrounds and learn about creating "special spaces" that challenge a child's physical, emotional, and cognitive growth. Working together, the group will plan elements for outdoor spaces that utilize loose parts and natural materials, and develop activity ideas and lessons to integrate all learning domains.
Trainer: Heather Parker Goetzinger, Early Childhood Education Director, Kalamazoo Nature Center in Kalamazoo, Michigan
A recording of the introductory webinar is available for free on the North American Association for Environmental Education YouTube page.
Documenting and Assessing Learning in the Outdoors
If you are tired of worksheets or simply don't believe that they are the best way to document the skills of early learners, this workshop will provide you with practical, authentic alternatives that are particularly effective for documenting outdoor learning. Photographs, work samples, and anecdotes can capture many of a child's experiences, and present a glimpse into his or her window of learning. In this hands-on workshop, you'll learn to take photographs that tell a story, provide activities that highlight skills, and explore ways to easily gather anecdotes. You'll work in a group to create your own model portfolio. Please bring a digital camera (or your phone) and a journal for taking notes.
Trainer: Paula Jackson, Lead Teacher, Early Childhood Environmental Education at Irvine Nature Center near Baltimore, Maryland
A recording of the introductory webinar is available for free on the North American Association for Environmental Education YouTube page.
---
Paula Jackson is a former public school teacher who became inspired to educate children in new ways. After coming to Irvine Nature Center, she has worked in Parent Child programs, The Nature Preschool, Homeschool programs and is now the Lead Guide for the new Forest Kindergarten inspired class. She enjoys teaching creatively by incorporating arts and storytelling to her lessons and loves teaching with the changing seasons. Paula has two preschool-aged budding nature enthusiasts at home who love camping and exploring new territories with her and her husband!
Heather Parker Goetzinger began her career in education teaching Young 5s, Michigan's transitional kindergarten program. She continued to enjoy working with young children as a Headstart director at a community center in the Grand Rapids area. Heather first became acquainted with nature preschools as a preschool parent in 2005, sending all three of her children to Nature's Way Preschool. In 2011, she joined the Kalamazoo Nature Center staff and became the director at Nature's Way Preschool.  She has a Bachelor of Science in Early Childhood Education from Michigan State University, and a Master of Education from Grand Valley State University.
Kit Harrington
 is 
Director and co-founder of Fiddleheads Forest School, an entirely outdoor nature-based preschool in Seattle. Kit is an AMS Certified Early Childhood Educator with a background in perceptual learning and child development. She works to provide guidance and support to the nature-based and outdoor preschool movement on a regional and national level through her roles as a member of the leadership team for the Council on Nature and Forest Preschools, as founder of the Washington Nature Preschool Association, and as a presenter at various national and international education conferences. Her approach is strongly influenced by James Gibson's theory of perception and concept of affordance, as well as her passion for helping children develop self-regulation skills and social and emotional awareness. Kit believes deeply in the value of supporting children's development by cultivating a sense of wonder and connection to the natural world.
Questions? Email us at [email protected]